Rampage
(1963)
A romantic triangle complicates a big-game hunting expedition after a hunter and a trapper are hired to catch a rare hybrid cat in Malaysia. Dir: Phil Karlson Cast:  Robert Mitchum , Elsa Martinelli , Jack Hawkins.
C-98 mins, TV-PG,
 *Spoilers Below* Spoilers Below* Spoilers Below* Spoilers Below* 
"Anything can happen on a Shikar [aka safari]. Some things you plan, some things you don't." - Ah, yes. Truer words were never spoken--and in this movie that quip is intoned twice by both Otto Abbot (
Jack Hawkins
) and Harry Stanton (
Robert Mitchum
). And anything can happen when you watch this movie with an open mind.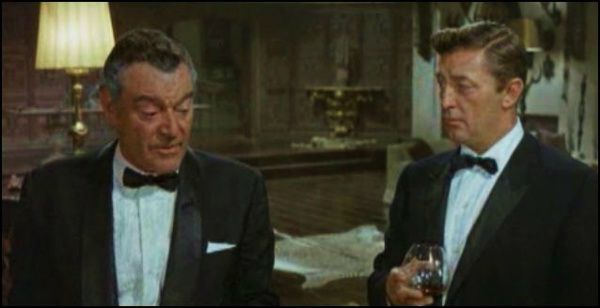 This adventure flick should have been a bracing cocktail:
Take a twist of a "
Tarzan
"-like Freudian triangle (of the Johnny Weismuller-Maureen O'Sullivan-C. Aubrey Smith variety), a splash of "
Murder in the Zoo
" (with Jack Hawkins as a smoother, if no less arrogantly jealous a stand-in for Lionel Atwill), a jigger of "
The Most Dangerous Game
," (with Hawkins channeling Leslie Banks' mad hunter), a beaker of Hemingwayesque schlock (all the testosterone-laced b.s. about hunter vs. trapper in this movie), and just a scosh of "
King Kong
" (complete with a beast causing panic on the streets of a modern city). Put it all together, give it a beautifully photographed gloss courtesy of cinematographer
Harold Lipstein
and director
Phil Karlson
's great eye for composition, a delightfully atmospheric score by
Elmer Bernstein
with a kickin' theme song with lyrics by
Mack David
(that I thought at first might have been sung by that lazy hepcat,
Robert Mitchum
). Shake it up, give it a garnish of cozy exoticism (provided by dear
Sabu
, in his last role as a Malayan guide just before his premature death at only 39) and at the end of the day you have one of the silliest movies of the talented
Phil Karlson
's colorful if sometimes checkered career.
Based on a novel by the interesting adventurer-actor-writer
Alan Caillou
, the story was translated to the screen by at least three others, Robert I. Holt, Marguerite Roberts, and Jerome Bixby, who gave us one of the last of the Great White Hunter movies under the direction of Karlson, who made some of the grittiest and memorable noirs of the fifties, among them
Scandal Sheet, 99 River Street, Kansas City Confidential, 5 Against the House
and
The Phenix City Story
. As this very guilty pleasure movie proves, times had changed. Instead of hard-hitting stories with a foot in complex reality, this movie stars Jungle Bob Mitchum in a performance that winks at the audience, collecting his pay and getting a family vacation in a tropical island just as his looks started to set sail forever as his eyelids lowered and his ennui grew. The movie is good for laughs, lust, and some beautiful vistas, though storywise, as
Mitchum
reportedly said, it consists of "a lot of dancing girls, banjo playing, and bull." Maybe the dancing girls and the banjo picking wound up on the cutting room floor, because all I could detect was the bull.