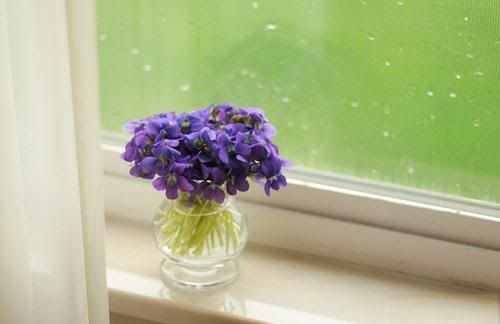 I think of my own mother today, gone from earth 25 years ago this week but with me always, in every breath I take. All I have to see are the wild violets growing in the long grass in Spring and she comes back to me, as I recall all the small bouquets she accepted from my grubby little hands. Murmuring how violets were her favorite flower, she placed them delicately in a small vase. If she had time, a round tray would come down from its spot on the counter, and her pocket mirror would be placed on it as a reflecting pond, with the violets next to that. My job would be fetching some soft green moss from the base of the back yard trees to place around the mirror, adding leafy twigs for trees and the fences we would arrange on the edges of the tray, ultimately creating a magical miniature garden. It's funny what you remember.
Not all of us can be a mother, but we are all the sons and daughters of someone who cared enough about us to give us life. I hope that today reminds you of something you have loved about your mother. Pass that love along, won't you? The world could use some of it very badly. Here's a lovely video of mothers on film with music from Connee Boswell, singing (what else?) "Mommy."
The mothers above were played by Irene Dunne, Maureen O'Hara, Claudette Colbert, Norma Shearer, Myrna Loy, Marlene Dietrich, Greer Garson, Carole Lombard, Shirley Temple, Natalie Wood, Judy Holliday, Joan Fontaine, Katharine Hepburn Spring Byington, Sara Allgood, May Robson, Deborah Kerr, Ginger Rogers, Vivien Leigh, Olivia de Havilland, Bette Davis, Arlene Francis, June Allyson, Jean Arthur, Jennifer Jones, and Joan Crawford.