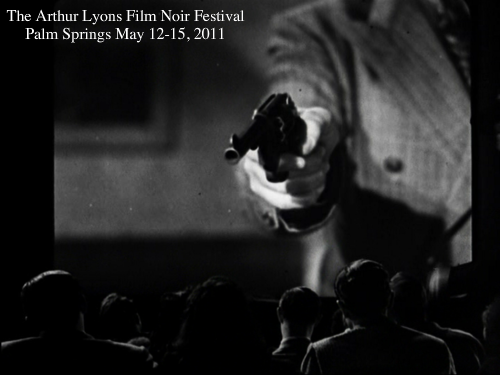 Above: A disturbing scene from Hitchcock's Saboteur (1942), which festival-goers can watch in the company of Norman Lloyd, one of the movie's stars.
The peripatetic film historian
Alan K. Rode
sends word that the
Arthur Lyons' Film Noir Festival
from May 12th -May 15th is coming around again. If you're like me, and can't possibly attend except in spirit, just seeing this year's slate of rare and beloved films makes me long for a ticket to Palm Springs, CA--or at least gives me a good idea for a film festival on the DVD player--if I could just find copies of the rarer titles. It sounds like a wonderful line-up once again, with such individuals as
Stefanie Powers, Norman Lloyd, Barrie Chase, Jeanne Cooper, Julie Adams
and
Diane Baker
in attendance to speak about the classic movies that are being rediscovered by many of us.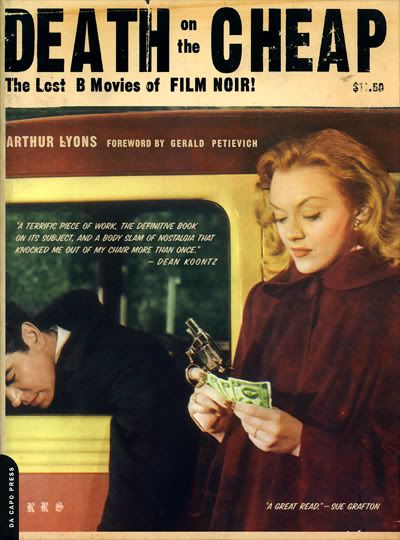 The festival is named after its founder, mystery writer and film historian
Arthur Lyons
, whose book,
Death on the Cheap: The Lost B-Movies of Film Noir
(Da Capo), remains an inspiration for all those who are intrigued by movies on the dark side, especially those neglected films waiting to be re-discovered.
I would really love to see some of the festival's scheduled films detailed below, especially
Crashout
(What a cast! William Bendix to Arthur Kennedy),
The Underworld Story
(Dan Duryea & Herbert Marshall rock)  and
Loophole
(What? Barry Sullivan plays
another
skunk? How can that be?)
99 River Street
and
The Damned Don't Cry
are films I have posted about before on this site, but seeing them on the big screen would be a treat and a half, especially since both feature visually stunning black and white cinematography by
Franz Planer
and
Ted McCord
, respectively.
Here's the skinny on the scheduled events in Palm Springs according to their website: