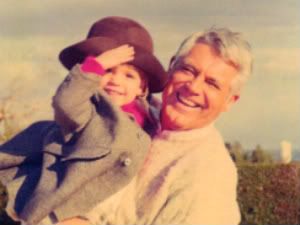 Jennifer Grant
wants the world to know at least one thing: "The persona, the charm was real. It wasn't some mask."
She ought to know, since she saw
Cary Grant
from a unique perspective as the actor's beloved daughter. Their relationship had some of the usual ups and downs of any parent and child, but hearing her speak of him, and reading Cary Grant's own astonishment at the depth of love he felt when he was with her it becomes clear: Never was a child more wanted. As he told a reporter in 1984, "I wish I'd had more children," he said quietly. "At the time, I did not have children because I did not feel that I could bring them up the way that I would have wished to. Because of the paucity of my own youth." With typical reticence about the poverty and tragedy that marked his youth in Bristol, England, he said simply, "It lacked many advantages." Grant's mother disappeared from his life at an early age, leaving him to grow up with his cold father. Unknown to the then ten-year-old Grant, his mother was confined to a mental institution for many years, until the pair were reunited in the 1950s. Grant's father had told him she was dead. Eventually, Grant ran away from his bleak home to become an acrobat. Given such as beginning, Cary Grant's own achievements in life seem even more remarkable, though becoming a father at age 62 became his favorite role.
One evidence of the importance of fatherhood in his life could have been glimpsed five years after the birth of his child. If you were passing by on a street in Sherman Oaks, California a few decades ago, you might have been a bit startled by the sight of a very famous face. Sitting in a parked car on the road near The Buckley School you would have seen
Cary Grant
, simply waiting for a school bus to roll past, bearing his daughter to and from school. All he wanted to do was wave to her. After the divorce of
Grant
and his fourth wife, Dyan Cannon, Jennifer Grant's time with her father was confined to alternate weekends, vacations and Mondays. This was simply not enough for the doting Dad, who understood how few years he was likely to have with his beloved child.
Such moments as that fleeting glimpse of his daughter were precious to him, and now that his child is a middle-aged adult and a parent herself, (of Cary Benjamin Grant, born in 2007),
Jennifer Grant
has written a personal memoir of her enchanted relationship with her doting father, "
Good Stuff: A Reminiscence of My Father, Cary Grant
," (Knopf).
The book, which is being released this week, was written by Ms. Grant after she found herself finally being able to go through some of the material that her wise father saved for her. As she
explained in an interview
over the weekend with the Los Angeles Times, the boxes and boxes of material included numerous recordings of her voice and conversations with her father on the phone, which began when she was very small. "I was finally ready to share him," she explained. You can see an interview at CBS Sunday Morning with
Jennifer Grant
looking at her father in loving perspective
here
. The video includes some delightful home movies of the twosome engaged in play with typical, apparently genetic
Grant
verve.