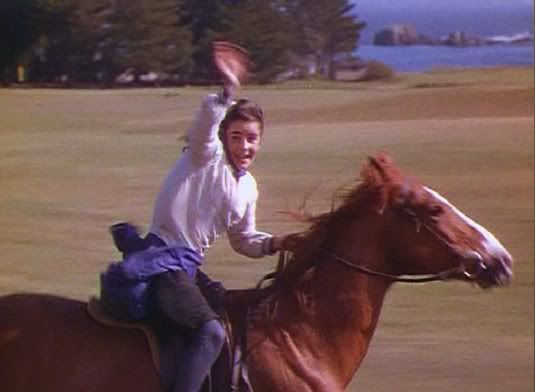 "I want it all quickly 'cause I don't want God to stop and think and wonder if I'm getting more than my share." – Elizabeth Taylor as Velvet Brown in National Velvet (1944)
A blur of thousands of words and pictures began to tumble out of every medium as soon as news of
Elizabeth Taylor
's death at age 79 was announced on March 23rd. I know that the most noteworthy features of this performer's life are the many adult roles she played with skill (on screen and off), her remarkable beauty, durable, often deliciously excessive glamour, the ups and downs of her not-so-private life, and ultimately, her pioneering charity work to assist those with AIDS. People will naturally mention her two Oscars. One was awarded for her tart with a heart in the often ludicrously steamy
Butterfield 8
(1960)–making up for the Academy's neglect for her fine work in
Cat on a Hot Tin Roof
(1958)–and her well-deserved Best Actress Award for the harrowing and truthful characterization in
Who's Afraid of Virginia Woolf?
(1966).
To me, however,
Elizabeth Taylor
is cherished in memory for her extraordinary work near the beginning of her career, when she gave herself completely and unselfconsciously to the role of Velvet Brown, a dreamer, whose love of horses seems to border on a pagan devotion deeper than civilized analysis can ever explain away. All of the entertaining blather surrounding this "last great star" falls away when watching
National Velvet
(1944), a beautifully crafted product of the studio era at its height. This role prompted the already accomplished rider (Elizabeth Taylor's father had taught her to ride at the age of 4) to train rigorously each day and, with the guidance of her ambitious mother Sara, prompted the tiny girl to try to grow three inches to be an acceptable height for producer
Pandro S. Berman
(lifts in her shoes and some natural growth helped a bit).
Bewitched by the equestrian allure of the
Bagnold
story,
Taylor
plastered her room with horse-related images and paraphernalia. The slight girl also sustained a back injury during riding for this movie that would plague her for the rest of her life. Despite any of the background pressures, this film appears to be one of the last times that the then 12-year-old actress seemed so blissfully unaware of her own "rapturous beauty," as critic James Agee acknowledged in his review of the film at the time of its first release. Perhaps the openness of
Taylor
's heartfelt performance in this movie was the result of careful tutoring or simply reflected her own well-documented love of animals, but I suspect that it may also have been because, as an outstanding part of a strong cast, she was treated for what she was rather than for how she looked, allowing her inner spirit to soar on screen. As an adult
Taylor
later tried to explain it, "
National Velvet
really
was
me."
...More on the TCM Movie Morlocks