"Could I ever have imagined, back when I was a kid watching Errol Flynn in Captain Blood and The Charge of the Light Brigade and The Adventures of Robin Hood, that someday I'd be co-starring in a movie with him? Never. I did dream that maybe someday I'd have my face on the cover of one of the movie magazines, but then I would look in the mirror and say to myself, "Oh, no. No chance." ~ Paul Picerni
Word comes this morning of the death of actor
Paul Picerni
(1922-2011), whose Agent Lee Hobson was one of the most enduring presences in the classic television show,
The Untouchables
(1959-1963).
Picerni
was a last link to the end of the studio era, having appeared in such films as
House of Wax
(1953),
The Desert Song
(1953),
The Brothers Rico
(1957),
Marjorie Morningstar
(1958),
The Scalphunters
(1968),
Airport
(1970) and many more. The father of eight, and grandfather of ten, Mr.
Picerni
has been married to
Marie Mason
(née Marie Mussamecci) since 1947.
Boy, I had such a crush on him when I was a kid! He was always showing up in movies and tv shows as a hardworking Italian lad with brains and talent. The audience was always supposed to be savoring the sight of a
Robert Stack
or a
Paul Newman
--but my sisters and I always had our eye on
Paul Picerni
and his beautiful smile, gentle manner and fine speaking voice. Then I read his autobiography,
Steps to Stardom: My Story
(BearManor) a few years ago and discovered that in many ways he really was that striving person he played--except that he also had a great sense of humor. As
Picerni
explained the title of his memoir, he put things into perspective. "I didn't mean to imply I was a major star. When I was just starting (my) career, I was telling this actress how expensive it was to have children. She said to me, 'Ogni Bambini che lasce porte un pane sul braccia,' which means, 'Each child arrives with a loaf of bread under his arm.'"
"I told that story to a magazine writer and he was the one who first wrote the story 'Paul's Steps to Stardom.' With each child I had, I took a step toward stardom. So really my children brought a loaf of bread under their arms as my salary and parts increased with each one. I never became a major star. I only starred in three or four pictures. Most of the time, I was first featured player."
Paul Picerni
and his beautiful family can be seen in 1962 in the newspaper cutting below, (I apologize for the watermark). Please click on the photo to see the large version of the image.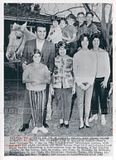 The Official Paul Picerni Website
A remembrance of
Paul Picerni
's encounter with the legendary
Errol Flynn
during the filming of
Mara Maru
(1952) can be seen
here
at
Classic Images
. The actor's autobiography was written in collaboration with
Tom Weaver
.
A superb interview with Paul Picerni conducted by Harvey F. Chartrand at GreenCine in 2005 can be seen
here
. If you read it, you will laugh and learn things about legendary actors that you've never read anywhere else. Mr. Picerni was clearly an accomplished raconteur.
A series of videos featuring Mr.
Picerni
reminiscing about his life have been posted on youtube and can be seen
here
.
A complete list of
Paul Picerni
credits may be found
here
.
My condolences to
Paul Picerni
's large group of family members and many friends.
Sources:
Henderson, Evan
,
"Baby Steps: Actor Paul Picerni Says Having Children Helped With His Success,"
Los Angeles Daily News, November 3, 2007.
Rizzuto, Janis
,
Paul Picerni '50
, LMU Magazine, December 3, 2010.
Weaver, Tom, Picerni, Paul
,
"In Like Flynn,"
Classic Images, June, 2010.