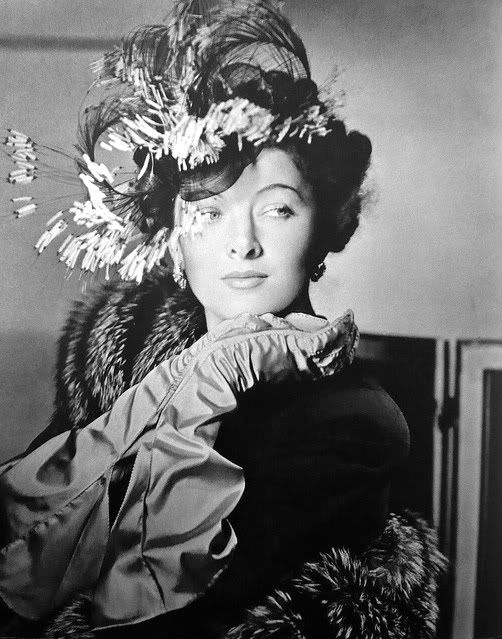 Myrna Loy, photographed by Horst P. Horst in the November 15, 1942 Vogue.
"You look at those old studio portraits and you say: 'My God! Were there people that really looked like that?' Scrupulous attention was given to achieving an ideal of beauty. It was considered a treasured, wonderful thing. I'm not sure it was the best thing--a lot of people with talent and personality got lost in the shuffle--but it created an image, an aura, a myth that endures."  ~ Myrna Loy in Being and Becoming, her autobiography

Myrna Loy
(1905–1993) caught my fancy as an appropriate subject for the second entry in this casual series about the lost art of wearing a hat. Ms.
Loy
had the ability to transform a humble bit of sculpted cloth, feathers and ribbon into a statement of inner strength, a jaunty attitude, or an acknowledgment of  the divine foolishness required for a life in the spotlight. 
Loy
's trim form, lithe posture, and expressive yet exquisite heart-shaped face all blended with her talent to imbue her roles with her individual humor, grace and humanity over the course of seven decade career. She was a skilled actress, an intelligent beauty, and a concerned citizen. I suspect that her reassuring presence made audiences and her industry take her a bit for granted, especially since she made it all look easy.