I just started reading the newest book by a past guest at the
Silver Screen Oasis
, author
Scott Eyman
.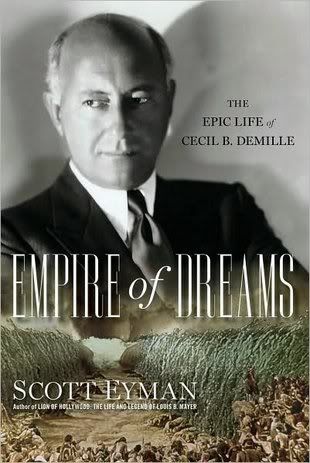 Cecil B. DeMille: Empire of Dreams
(Simon & Schuster) is incredibly detailed and, like a thriller, you keep wondering how ol' Cecil is going to pull off his latest stunts on and off screen as he became a filmmaker who invented the job as he went along. A far more complex character than one might guess from relishing some of his lavish productions, which could be funny, moving and of course, titillating, so far (I'm only on page 124) it is enthralling and hard to put down. As ever, with anything
Eyman
writes, he has done his research (he had access to many of the DeMille files that had never been examined previously), and he has a lively, fluid writing style, as well as an instinctive sense of fairness toward his subject.
My favorite DeMille movie has gotta be the incredible
Sign of the Cross
(1932), followed by the surprisingly subtle and moving
The Cheat
(1915). If you would like a taste of DeMille, you might enjoy
Samson and Delilah
(1949) which is being broadcast by TCM tonight at midnight ET on Sept. 24th. Maybe this time that lion will win his wrestling match with Victor Mature?
You can hear
Scott Eyman
being interviewed on NPR by
Scott Simon
here
.
Tim Rutten reviews the book for The Los Angeles Times
here
.
You can read more about
Scott Eyman
's terrific books
here
at his website.
You can see the entire Q & A with
Scott Eyman
at the
Silver Screen Oasis
in 2007
here.
UPDATE!:
You can read a lively account of the recent screening of the
Claudette Colbert
version of
Cleopatra
(1934) at the Egyptian Theatre
here
. The event was hosted by
Leonard Maltin
and featured
Scott Eyman
and
DeMille
family members. Just scroll down the page to the posting for September 22, 2010 posted at
Laura's Miscellaneous Musings
posted on September 22, 2010 to see this on-the-spot report.