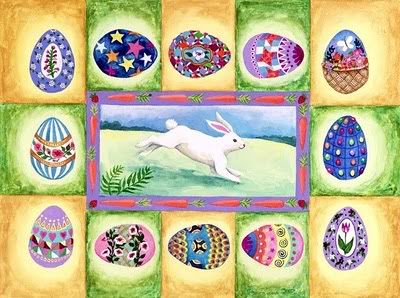 My wishes for all of you--whether you recently celebrated Passover, are looking forward to Easter this Sunday, or are just relishing the arrival of Spring--may you find your own spirits renewed as nature tosses its seasonal bouquet your way:
Above: Spanky McFarland, Carl "Alfalfa" Switzer, Darla Hood, Billy "Buckwheat" Thomas and friends near Easter, 1935

.




Above: No, silent actress

Mary Philbin

is not appearing in an another sort of horror picture after

The Phantom of the Opera

(1925). This trick photograph is merely an attempt to celebrate the joy of Spring associated with Easter. No comment was recorded for posterity from the chick, alas.
Above:

Ann Miller

, that tapping coquette, was game for just about anything during her long career--even if it meant donning an ungainly chapeau for her Easter bonnet, complete with a holiday bunny. Photographed in 1946, perhaps this publicity shot was in celebration of the dancer's upcoming casting in

The Easter Parade

(1948)?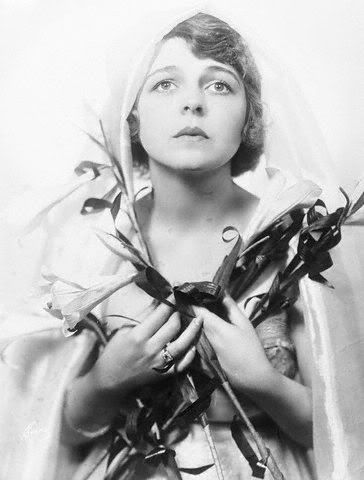 Above: The original caption of this 1921 photo said "Fair
Helene Chadwick
...striking pose that bespeaks the spirit of Easter-tide." The actress at the time was the first of four women who had the temerity to marry hell-raiser
William Wellman
. He had, reportedly just begun making his way as a neophyte director--in part thanks to the Fair Helene's putting in a good word for him at the studio. Though their marriage would falter, Miss
Chadwick
apparently did not hold a grudge. She would continue to appear in her ex-hubby's films from time to time until her death at age 42, due to injuries from a fall that she experienced a few years before. No wonder she looks as though she is beseeching heaven for a sign.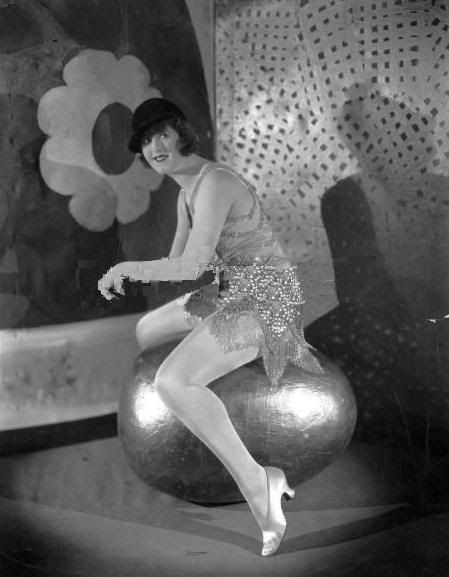 Above:
Dorothy Ward
, a dancer and actress who appeared in films from 1926-1951, including many often uncredited appearances in movies such as
George White's Scandals
(1935),
Son of Fury
(1942), and
An American in Paris
(1951) was just starting out in movies after a few Broadway musical appearances she was persuaded to appear in this, *ahem*, imaginative publicity shot. She should have gotten more credit for being game. Btw, if her birth dates are accurate, she was a mere 14 when this was shot. Hmmm...really?
Above: It's 1945, and you are a young blonde starlet. How to get attention and get your picture in the papers, (or at least on calendars in service stations)? Go for broke, break out the bunny ears, the two piece bunny-like fur swimsuit

--at least I hope it's only "bunny-like"--

and don't forget the paws to complete the look, several years before Mr. Hefner had a brain storm. This probably seemed like part of the job to

Barbara Bates

who was just trying to get a foothold on her way up the ladder in Hollywood. The actress is best remembered for her appearance as the gushing fan at the end of über-classic,

All About Eve

(1950).
Above:
Paula Prentiss
didn't know it when she posed with this Easter Rabbit for Spring, 1962, but she belonged to that last generation of actors who were groomed to be stars within the studio system at MGM. Happily, she survived and her talent, smoky voice, humor and glorious height have graced several now classic films. My favorite: her skittish adulterous Manhattanite in
The World of Henry Orient
(1964). If born a generation before, she might have had more of a chance to add her brunette incandescence to films of the classic era. She has instead continued to appear occasionally, leaving us wanting more of her company, but appreciating her presence more as well.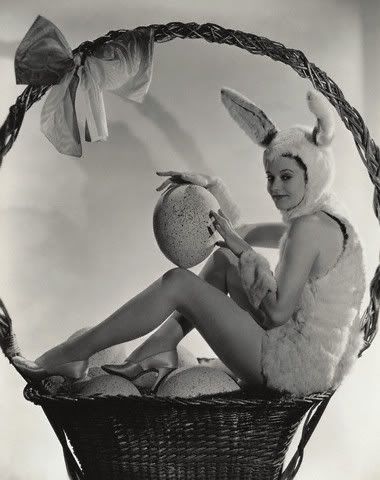 Above: I really like the bemused expression on
Heather Angel
's face as she poses for this cockamamie Easter picture in 1933. Some good things were in this British-born performer's future, such as The Last of the Mohicans (1936), Kitty Foyle (1940), and perhaps her most memorable role as the rescued mother in Lifeboat (1944). So, maybe it was worth it to raise her profile by slipping on the bunny suit.
Above: A game

Dorothy Gulliver

makes like a winsome Humpty Dumpty for Easter in the '20s. Gulliver came to Hollywood in the '20s, when she won a beauty contest in Salt Lake City. She was later a contract player at Universal and was named a WAMPAS Baby Star in 1928, though her roles were largely confined to bit parts. By the '30s she appeared in several sagebrush serials, sharing the screen with Hoot Gibson, Tim McCoy and a young John Wayne in these popular films. This particular publicity shot from the jazz age makes me wonder if surrealism might have found fertile ground in the film capital well before Dali came on the scene...speaking of which...
Above: Here we find Steve Allen and Eva Gabor in 1951 vying for the attention of Dali himself after Easter services at New York's St. Patrick's Cathedral. It was all in a day's work for the innovative talk show host and Hungarian beauty turned actress, though Dali looks off in the distance, as though he wishes he were elsewhere.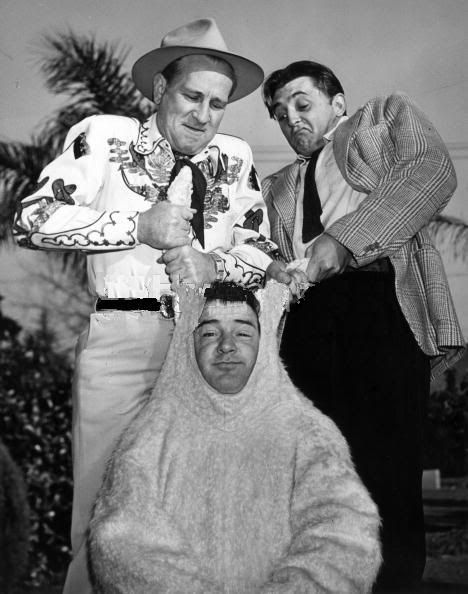 Above: To prove that the girls are not the only ones to make fools of themselves, here are Bud Abbott and Robert Mitchum "assisting" the Easter Bunny played by Lou Costello in 1946 at a party at the Costello house for several children of Hollywood.