I was inspired by
a recent piece on typing
by my friend
Jacqueline
over on
Another Old Movie Blog.
Mulling over her discoveries, I put together a slew of images of some people you might know; all engaged in an activity that I find very appealing: Reading!
Readers and the solitary act of reading, creating an invisible tie between the author and the reader, is quite a powerful experience. Being a mad reader myself, I thought that it might be fun to pursue images of those celluloid figures whose dashing across the screen so seldom shows them in the relatively passive role of a reader. As the French author
André Gide
once said, "To read a writer is for me not merely to get an idea of what he says, but to go off with him and travel in his company."
The cliché has it that the unlettered denizens of Hollywood in the studio era were really illiterate, though in my reading, I've usually found them desperately searching for words most of the time. Even the doyen of gossip,
Louella Parsons
, called her memoirs of her adventures in the cinema hub, "
The Gay Illiterate
", though it should be noted, before jumping to any 21st century conclusions, that she used the term gay in the old fashioned sense, such as being light of heart. Still, it is hard to fathom anything really festive about Parsons' work. Some claim that she really couldn't read, but since she could definitely write (or at least dictate), let's start this feature in an intentionally light-hearted spirit. Some of the people who will appear in this series each day this week are reading books, others are absorbed in scripts, some newspapers, comics or letters, and some
--in a sure sign of the love of words,

any

words--
are reading labels!:
Clark Gable

tackles a modern classic, (of sorts), but he doesn't look as though it is much fun. Maybe it's one of those pages featuring Ashley and Scarlett's mooning
Ralph Richardson

casts a cold eye on the cameraman who has invaded his privacy and distracted him from his copy of The Stage in which he is no doubt looking for a show to audition for soon. Personally, I always suspected that Sir Ralph was a pussycat.
Many people, aware of Ava Gardner's somewhat sketchy education, may have used what knowledge they had to try to cut down the beauty to their size. Compelled by her family's financial circumstances to find any work she could, there was little time to read in her past. By the time she was in Hollywood, men like the self-taught intellectual and bandleader Artie Shaw felt compelled to introduce her to the worldly refinements of literature, art and music. She tried to take UCLA extension courses in English literature and economics, went into analysis--but the marriage only lasted a year.


Ava Gardner

, with her newly shorn locks in that cute Italian style of the early fifties, takes time out to once again look at a book. Sort of. In real life, away from the publicity still cameras, Ernest Hemingway called her "Daughter" affectionately, and

Ava

was good friends with none other than poet

Robert Graves

, visiting him often in Mallorca--even though she was known to step out at night to dance with the locals. One does not live by reading alone!

An uncomfortable looking

Louella Parsons

rather late in life, sharing one of her favorite books,

Tell It To Louella

with another generation's gossip columnist, Suzy Knickerbocker, who was the doyenne of the day's trivialities in the '60s New York. Then again, Louella isn't really reading her own book, is she?

That fellow under the derby is a young

Gary Cooper

, who appears to be studying his script between shots on

One Sunday Afternoon

(1933-Stephen Roberts).
An eager looking

Chester Morris

in the early 1930s is caught by the camera reading his script. No, it doesn't look posed at all, why are you thinking that? Since Chet looks relatively happy, I doubt if this is a script for a Boston Blackie movie (didn't he ad lib his way through those?) Morris was actually an excellent actor, who labored in films that rarely matched his talent. On stage he enjoyed better roles, including leads in Gore Vidal's The Best Man and in the stage and screen versions of Howard Sackler's The Great White Hope (1970).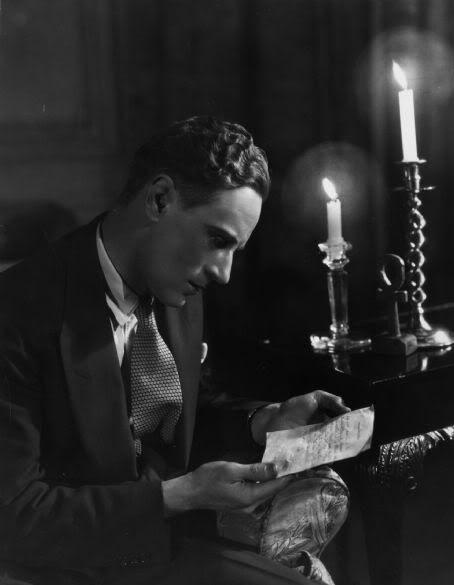 Leslie Howard

pores over a letter in a beautiful, forgotten über-romance, Berkeley Square (1933-Frank Lloyd), a film in which the hero transcends time to find his heart. Almost always playing appealing intellectuals in nearly every role, Howard was a publisher with marital issues in The Animal Kingdom (1932), a despairing poet in The Petrified Forest (1936), convincing Professor Henry Higgins in Pygmalion (1938), and played erudite men in both Pimpernel Smith (1941) and The 49th Parallel (1941). *Sigh*
Cute child actor

Kevin Corcoran

, a Disney contract player who knew which side of the bread was buttered, is engrossed in a Scrooge McDuck comic book while preparing for a scene as the immortal "Moochie" one of the more annoying characters in

The Shaggy Dog

(1959).