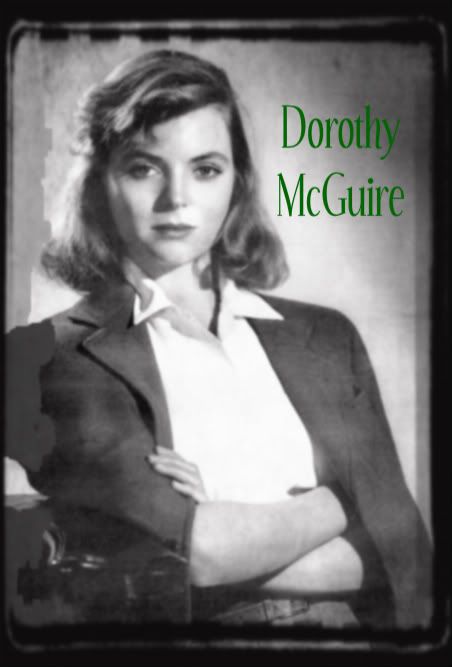 A friend once pointed out to me that in 2002, the name of
Dorothy McGuire
was not mentioned once during the Academy Awards show that followed her death by six months. It would have been a graceful coda to the public life of this former Academy Award nominee, but, given the memorable, soft-spoken manner in which she made her presence felt in American films over six decades, it is hardly surprising that this inadvertent oversight occurred on that glittering March night.
Dorothy McGuire
, while blessed with a lovely face and natural beauty, never really seemed to fit in with the glamour of Hollywood, least of all amidst the jockeying for attention and recognition by the audacious and hardworking denizens of the movie business on Oscar night. More surprising was the realization that
McGuire
had only been nominated once, as Best Leading Actress for her work in Elia Kazan's adaptation of
Laura Z. Hobson
's then innovative look at anti-Semitism in America,
Gentleman's Agreement
(1947).
The legendary trailblazing actress
Loretta Young
may have hit the nail on the head when she was asked "Why did
Dorothy McGuire
never become a big box-office star as you did?" Young, perhaps thinking of her own shrewd business sense and the often astute choices made during her long career, replied, "That's easy, Dorothy wanted to be an actress, I wanted to be a star."
...More on TCM's Movie Morlocks