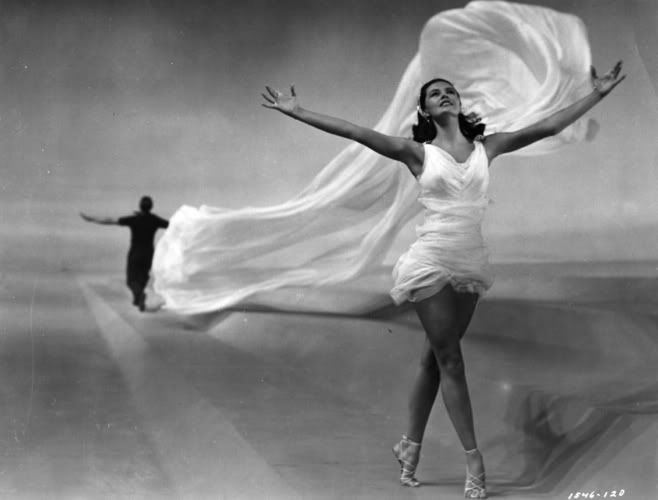 There she is. Elegant, strong, sexy and poetic all at the same time. The exquisite dancer without peer on film, one girl in the movies who never needed to say a word. She didn't have to. Words were unnecessary.
She was
Cyd Charisse
, the consummate dancer whose grace and sensuality enhanced some of Hollywood's greatest musicals, including
Singin' In the Rain
and
The Band Wagon
. News came last night that she had died at 86 of a heart attack. But if you were awed by her regal mastery of movement on film, you thought immediately of that exquisite creature who enchanted and vamped the two best dancers in movies,
Gene Kelly
and
Fred Astaire
. That unique blend of erotic grace still beguiles us some sixty years after her first detectable appearance on film as an anonymous ballet dancer in the wartime drama
Mission to Moscow
(1943).
Born
Tula Ellice Finklea
in Amarillo, Texas in 1921, (though some sources say 1922), she experienced what she described as "a slight case of polio, which resulted in an atrophied shoulder and me being very skinny. People were afraid to touch me. So in order to exercise my muscles and become part of the community again, I took dance lessons." The daughter of a proud jeweller who was also a balletomane, by the time that she was six,
Cyd
, (who had been called "Sid" by her brother, who couldn't pronounce "sis"; though the girl would change the spelling to something uniquely her own in Hollywood), had arrived in California and was already destined for the life of a professional dancer. Fortunately trained by a former dance partner of the consummate prima ballerina, Pavlova,
Charisse
soon began appearing internationally as a member of the legendary Ballet Russe de Monte Carlo. Adopting the name
Felia Sidorova
, as a member of the corps de ballet, she received a grounding in the discipline and grace of classical ballet that would be distinguish her work throughout her career.