Sometimes it seems that I learn more from looking at the losers in history—even Hollywood history—than I do from the lives of those who seem to be victors in life's competitive struggle. The triumphant, who are usually perceived that way at a distance, are feted anew in biographies and compendiums of a period's highlights. The also-rans are sometimes given the affectionate sobriquet of "beautiful losers". Their foolish, noble or flamboyant failings may be most fondly remembered by those who never knew them. Well, here's a small toast to a less than beautiful loser, a woman whose brief and tragic life has only been seen through the somewhat romanticized prism of several other celebrated lives.
Mayo Methot
(1904-1951) is usually referred to as a colorful, if sad chapter during the "wilderness years" of movie icon
Humphrey Bogart
's long apprenticeship at Warner Brothers, following his promising breakthrough role in
The Petrified Forest
(1936) opposite his friend,
Leslie Howard
. As
Bogart
's third wife,
Methot
's descent into alcoholism, tempestuous marriage, possible mental illness, spousal abuse and inevitable obscurity are well documented. What seems less well known are her occasionally noteworthy appearances on screen.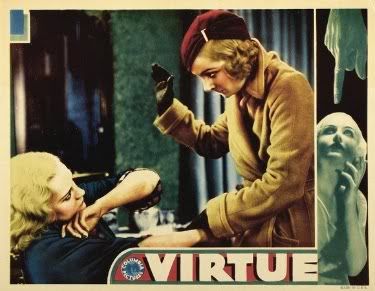 I'd never had the sense of "knowing" her through her brief appearances on film until the last year, when TCM trotted out some of her less well known films on their schedule. I was so moved by the beautifully shaded performance that
Mayo Methot
gave in
Virtue
(1932), an unruly little Columbia Studios Pre-Coder shown recently on TCM, that I thought that I'd try to look at her life and career separately from the iconic Mr.
Bogart
for once.
Riskin
's incisive dialogue and
Eddie Buzzell
's brisk direction of this 68 minute morality tale. Most striking of all, the outstanding skill that
Methot
as
Lil Blair
showed in her deft interplay with
Lombard
as
Mae
illustrates the quality of the dialogue and
Methot
, in her later rueful moments of reflection on her life, showed an actress of surprising ability, some subtlety and truthfulness.
The expression that passes over
Mayo
's face in this film when she realizes that the frank but squalid relationship she has with her lover,
Jack LaRue
, is in the way of her friend's happiness, is filled with resignation and a depth of despair that suggests an entire, desolate life behind her already worn face. In addition, the dialogue by Robert Riskin and the electric connection between Lombard and Methot is brought to life in their scenes by the chemistry between the two actresses. One lively exchange between the two illustrates the rapport between the two characters and the above average quality of
Riskin
's writing:
Lil Blair
(Mayo Methot): [
at Lil's apartment at the Wellington Manor. "Frivolous Sal" is playing in the background
] Danbury. That's where they make hats, ain't it?
Mae
(Carole Lombard): Yeah, I'da gone there, only I got a hat.
Lil Blair
: I been there once. Great town. They don't bury their dead - just let 'em walk around.
Mae:
Sounds like just the place for me.
Lil Blair:
How ya fixed for money, kid?
Mae:
Who me? Oh, I'm OK. Say, money's the last thing I think about.
Lil Blair:
Yeah, every night before falling asleep. C'mere, babe. You can't kid this old-timer; you're moving right in here with me.
Mae:
I wish I could, Lil, but I can't take a chance. I gotta lay low for awhile. Runnin' into that dick wouldn't be too healthy for me. And in a joint like this? Oh!
Lil Blair:
Put that record on again, willya Mae? Gee, that song does somthin' to me; kinda gives me a funny little pain.
Mae:
[
sardonically
] Where?
Lil Blair:
What's eatin' ya kid?
Mae:
Me? Nothing. I got no kick comin'. I got a beautiful home on Long Island, four or five Rolls Royces... and a big stiff pain in the neck.
Lil Blair:
Listen, you're lettin' this get under your skin. I wanna tell you somethin': hangin' around me ain't gonna do ya any good. Why don't you get out? You're young and pretty...
Mae:
Did you ever try it? You've been around a long time.
Lil Blair:
Since I was seventeen.
Mae:
You did your Christmas shopping early.
Lil Blair:
Mmmm. I found out there wasn't any Santy Claus, too. Oh, I coulda got out of it once, but I had a rotten break: I fell in love. Don't ever let that happen to you, Mae. Get out while you can.
Mae:
[
wistful
] Yeah. Try and get out. Once you're in, you're in. It's like hopping out of a window; when you jump, you just naturally gotta keep going.
Early Years
Who was she?
Mayo Methot
was the daughter of a Portland, Oregon sea captain who sailed to China regularly. He gave his daughter a love of the sea, one of the few healthy interests that she would share with
Bogart
during their marriage, when they spent much of their time on a 36-foot cabin cruiser. Her mother,
Beryl
, who fostered her daughter's theatrical bent, was an independent woman and a notable journalist in Portland at a time when most women's lives began and ended at the front door of their homes.
Left: Mayo Methot in her years on Broadway in the '20s.

Mayo
never seems to have achieved the kind of lasting self-sufficiency of her mother, but with her support she struck out for Broadway at 18 after an apprenticeship in local repertory work, where the barely 5' tall girl earned the sobriquet, "The Portland Rosebud." The only roots in the theatrical world were said to belong to the girl's paternal grandmother,
Minnie Methot
, who reportedly sang at the Metropolitan Opera at one time, (slightly comical, alliterative first names seem to have run in the family, though of course Mayo was named for the beautiful Irish county, not the condiment). As a child, Mayo had appeared in stage productions arranged in the Portland area. The girl appeared as a small boy in a play about the ancient Greek poet, Sappho and she played the lead in
The Littlest Rebel,
the Edward Peple play that would later be immortalized on screen by Shirley Temple. At the age of eight, Mayo Methot's name appeared in the national press for the first time when the Portland city government and advertising executives sent Mayo and her mother east as the city's mascot to represent the city and to present roses to executives including Woodrow Wilson at the White House.
When interviewed in her New York hotel room on June 19, 1913, the future actress was remarkably poised. "The president is awfully nice," she told the reporter, "He has a lovely room with pictures on the walls of other presidents. I saw one of President Taylor, of whom I am a descendant. I am also a descendant of another president, but I can't remember his name...I go to the public school in Portland. I like it better than any city or town or state I have seen yet. New York is nice but it hasn't the air of Portland." The reporter also noted that the precocious "Little Miss Methot" told him that she "had played in Mrs. Wiggs of the Cabbage Patch, Alias Jimmy Valentine, Helena Ritchie, Mary Jane's Pa, and Her Own Way. I have been on the stage for three years."
Mayo's departure from her home city came when she was 18. She was reported to have been offered a chance for a small part in a Lionel Barrymore silent picture,
Unseeing Eyes
(1923) with the leading character actor, (this film is believed lost). Some believe that during an appearance as an extra on a Barrymore movie filmed in the New York area, the young Mayo may have met her first husband, cameraman, Jack LaMond.
Mayo did find her way to the bustling New York City theater world by the early 1920s, a decade when a burst of creativity that flowered with the work of playwrights such as Eugene O'Neill, Elmer Rice and the works of international authors from Ionesco to George Bernard Shaw enlivened the stage. The musical theater was enriched by the contributions of the Gershwins, Cole Porter, Hammerstein, Rodgers and Hart, among many others, creating a fertile period for American song, many of which continue to touch the heart of listeners.
Spotted in the 1920s by
George M. Cohan
(1878-1942) Methot was hired by the Broadway impresario in 1923 to appear in
The Song and Dance Man
with him, beginning on the last night of the year.As the New Year's Eve crowd filled the theater they were particularly susceptible to her charm in the tailor made part that Cohan had crafted for her talents in this play, which followed the playwright-producer's familiar formula examining the rise, fall, and resurrection of a man of the theater as he loves, loses and learns about life's travails as seen from the Vaudeville stage. Critics found it a bit tired by the mid-20s, though the youthful Methot stood out, according to the
Boston Daily Globe
reviewing the play prior to its New York debut, as "fresh and effective." The show proved to be a smash, despite critical indifference. Methot appeared in ten more plays throughout that decade, including
Great Day in the Autumn
of 1929 when she introduced a song that lives even today, with Vincent Youmans music and lyrics by Billy Rose and Edward Eliscu. The plaintive lyrics might have been an anthem for the actress, whose love life before meeting Bogart was already checkered with hope and disappointment, a pattern that may have intensified her frailty as she grew older:
"Whether you are false or true
Whether you remain or wander
I am growing fonder of you

Even though your friends forsake you
Even though you don't succeed
Wouldn't I be glad to take you
Give you the break you need

More than you know, more than you know
Man of my heart, I love you so
Lately I find, you're on my mind
More than you know

Whether you're right, whether you're wrong
Man of my heart, I'll string along
I need you so
Much more than you'll ever know

Loving you the way that I do
There's nothing I can do about it
Loving may be all you can give
But baby I can't live without it

Oh how I'd cry, oh how I'd cry
If you got tired, and said good-bye
More than I'd show
More than you'd ever know"
According to one acquaintance of the time,
Methot
also had an affair with
Cohan
when she was appearing with him on the stage. As a theatrical entrepreneur, George M. Cohan shared his experiences as a former child actor with the tiny
Mayo Methot
. Both had been onstage beginning as toddlers, with some sources indicating that Mayo first stepped before the footlights at the age of four, while others say she was five.
Cohan
was in a position to help the actress.
John Weld
(1905-2003) was the author of
Fly Away Home: Memoirs of a Hollywood Stunt Man
. He was also a reporter for the
New York Herald Tribune
and other newspapers, as well as a stunt man for a time in Hollywood in the '20s and '30s.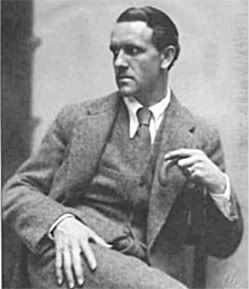 He was startled by
Methot
's frankness about this interlude in her early life in New York. Meeting Methot at a Hollywood party in the early '30s, she poured her heart out to Weld, surprising to Weld, who felt that it was almost as though she had no one else to use as a sounding board. She remembered how
Cohan
had been so beguiled by her luminous, large eyes and rosebud mouth when he saw her deliver her precious five lines, brightening the opening night of an otherwise dismal play,
The Mad Honeymoon
in 1923, her Broadway debut. Seeking her out backstage, he made her his protégé, telling all those who would listen that he had found "the next Lillian Gish." Reality intervened and changing tastes lessened Cohan's ability to mold careers (he had also taken a young
Spencer Tracy
under his theatrical wing early in the actor's working life) though Methot appeared in other plays that were part of the Cohan empire.
Torch Song
by Kenyon Nicholson, which opened in August, 1930. Brooks Atkinson of the
New York Times
described her role as a nightclub singer "unhappily transmogrified into a Salvation Army lassie, Mayo Methot gives a splendid performance--vivid in composition, sincere in feeling." This play would be filmed at MGM in 1931 as
Laughing Sinners
with Joan Crawford playing the role of Ivy Stevens.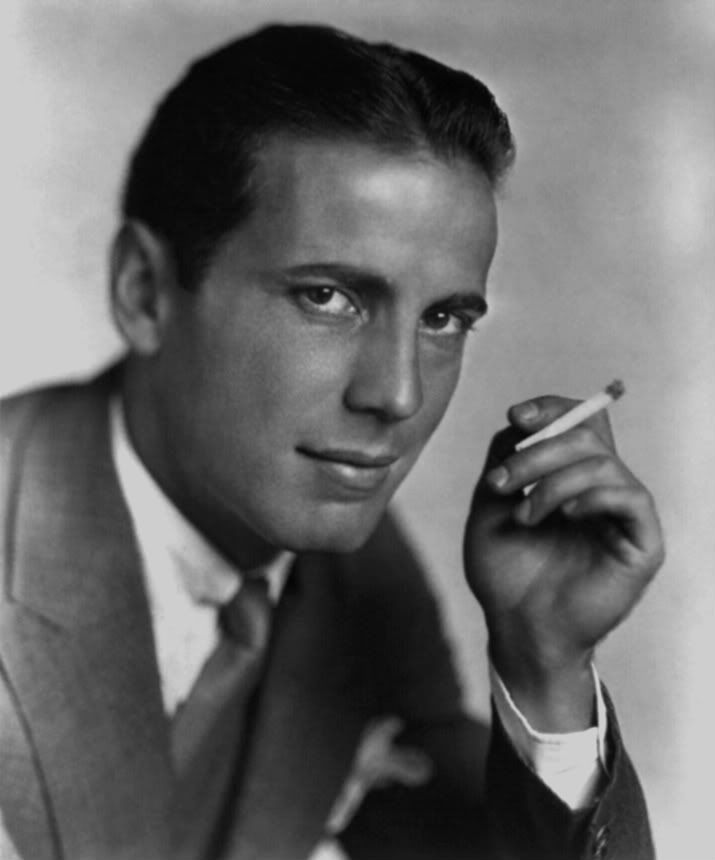 Since Broadway was a very small world in many ways despite the prominence of those who were participants, the first meeting between
Humphrey Bogart
and
Mayo Methot
undoubtedly occurred sometime while both were appearing in a series of plays on the Great White Way. "The Portland Rosebud" had achieved a level of professional success by the time that
Bogart
met her for the first time, reportedly at a purely social occasion at the Biltmore Hotel. Neither were stars, nor were they complete unknowns. Both were also a bit different as well. Unlike the majority of people in show business, both came from upper middle class families and had received excellent educations. Though neither would go to college,
Mayo
graduated from an exclusive private academy in Portland, the Catlin School, (now known as the Catlin Gabel School) and
Bogart
having attended a series of schools, including Phillips Exeter, (which he was asked to leave). Each of them idolized their fathers, though the paternal presence in their lives may have been somewhat remote at times.
Bogart
's father was a prominent physician in New York, and
Mayo
's father was often away at sea, though he instilled his love and some of his knowledge of the life on the water in her. A love of the water was also a shared passion.
Bogart
had learned to sail as a boy on Canandaigua Lake at a family cottage in summers spent in upstate New York and would find pleasure in the sea all his life. Both
Methot
and
Bogart
had mothers who had pursued a career outside the home;
Maud Humphrey
as a successful illustrator (who reputedly used her baby son as frequent model, and
Evelyn W. Methot
as a working journalist. In addition, both actors rejected a more conventional life that might readily have been theirs in favor of the insecurity of the theater. For many of their contemporaries and especially for those in the arts, the adrenalin rush of creative performance (and the inevitable times of unemployment for actors) may have prove as addictive as the alcohol that they consumed in earnest.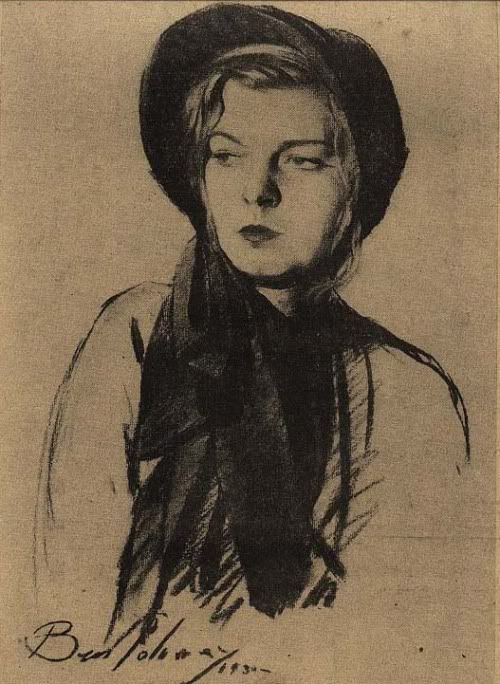 Bogart
, according to several who knew him at the time, such as the actress
Louise Brooks
, had a habit of drinking until he passed out at the table in a speakeasy and when roused, might sometimes be a bit truculent. The perceptive Brooks felt that he was often hurt by the rejection that went with the acting game, but that he was also a sensitive soul, aware that his prickly defensive personality sometimes made him personally disliked, but he could never quite resist relating to others by needling them.
Brooks

first met

Bogart

in 1924, and described him as "a slim boy with charming manners, who was unusually quiet for an actor. His handsome face was made extraordinary by a most beautiful mouth," (Warner Brothers executives would later find
his lips were too large to play a sympathetic leading man--but they were not as fond of Bogart as Brooks, who knew and appreciated him before, as she put it, "he was big business.").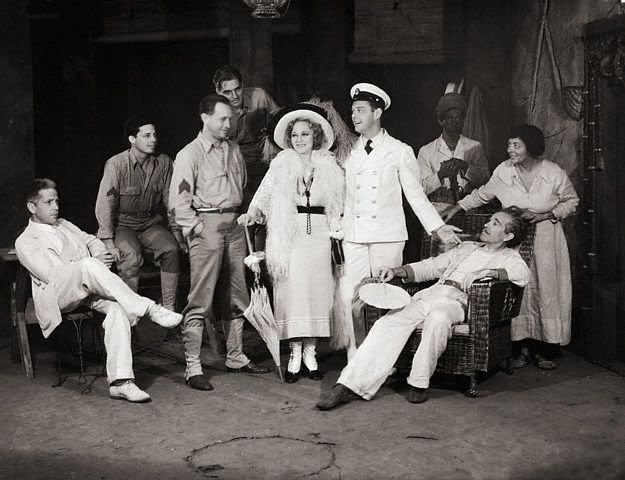 Helen Menken
, a prominent leading lady who was much better known than the quietly sarcastic young actor, who generally played lightweight juveniles at the time, once found herself engaged in a tussle with the actor over some fallen scenery during a play. Improbably after that initial fight, they were soon a couple and married.
Mary Phillips
, another prominent actress he would marry soon after noticing something provocative about her walk. Their marriages eventually dissolved, but
Bogart
remained civil with both women, and was particularly friendly with
Mary Phillips
, introducing her to both of his subsequent wives. Though still in her '20s,
Mayo
Methot
's later reputation for combative behavior when in her cups may have made her and
Bogart
sympathetic with one another's troubles as well as a potentially lethal emotional combination as a couple.
Professionally,
Methot
was arguably marginally less successful than her future husband on Broadway in the '20s, with
Meet the Wife
in 1923 and
Cradle Snatchers
in 1925 among his more successful plays. He had appeared in at least ten shows on stage in New York during the decade, with most closing very quickly after their premiere. Both knew the pitfalls of show business financially and emotionally first hand. As the Depression deepened and far fewer plays in New York and elsewhere were being produced (who could afford the tickets?), the Talkies appeared to be a possible solution to the exigencies of a life in the theater. It was worth a try. She signed a Hollywood contract as stage-trained actors became a desirable commodity. In retrospect, Methot's first talking picture was in distinguished company. The Vitaphone sort
Taxi Talks
(1930), a 14 minute picture made for Warner Brothers in their New York studios, featured
Mayo Methot
and the well known Broadway veterans,
Katharine Alexander
and
Roger Pryor
. It also marked the motion picture debut of
Spencer Tracy
, who played a cabdriver coping with an amorous college boy and his girl, a gold digger fleecing a Southern colonel and a mobster's jealous lover, who has just killed her man. These actors and Tracy, who had come to greater prominence as a condemned man in the hit play,
The Last Mile
, were often placed in the Vitaphone shorts as "a testing ground for new acting talent." (By a coincidence, in 1931, Mayo Methot was announced in the press to have been contracted to appear in the film version of John Wexley's play,
The Last Mile
with Paul Kelly in the part that Tracy had played on stage. Neither appeared in the low budget 1932 finished film, which starred Preston Foster and Louise Carter).
Despite her professional achievements, in the turbulent world of show business, a marriage at 19 to Cosmopolitan Productions' cameraman
Jack La Mond
dissolved in 1927. She came to Hollywood in 1930, and soon her second marriage to
Percy Morgan
,
Jr.
the scion of a socially well-connected California family and the co-owner with his brother John of the legendary Cock n' Bull restaurant on Sunset Blvd., was on the horizon. With the work life of her husband centering around a popular nightspot in Hollywood, and time between films hanging heavily on her hands, Mayo's drinking may have entered another phase during these early years in the movie capital.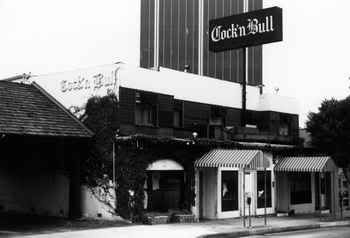 Above: The site of a perennial favorite watering hole in Hollywood, the Cock'n Bull restaurant, owned by Mayo Methot's second husband, Percy Morgan, Jr., and his brother, John.
Morgan
, except that he was the son of a British-born accountant turned banker in the San Francisco area who had been closely associated with Stanford University.
Percy Morgan, Sr.
had helped to shape the California wine industry by founding the California Wine Association in 1894. The younger Morgan was educated at Princeton (having fallen below the academic standards for admission to Harvard). Morgan was also a noted importer and connoisseur of Jensen automobiles, the highly prized British-made cars built to appeal to an elite clientele, such as
Clark Gable
, who commissioned a 1934 custom built model.
Methot
's first Hollywood-made feature film appears to have been
Corsair
(1931), a Roland West production distributed by United Artists. Remembered today for being the last of the innovative director's movies, Roland West cast his discovery and close friend, actor
Chester Morris
in the leading role of this film, which was actually meant as a dramatic vehicle for funny lady,
Thelma Todd
, who was re-christened "Alison Lloyd" to distinguish from her long-running and more memorable comic performances with Laurel and Hardy and other immortals.
Corsair
is a strange blend of '20s bounciness and Depression era consciousness of life's injustices, without the visual flair that was featured in West's most popular features,
The Bat
(1926) and
Alibi
(1929), since William Cameron Menzies' production design was missing from this film. In this drama, drawn from a novel by Walton Green (the former head of federal Prohibition enforcement),
Morris
plays a former college football hero turned stockbroker, whose revulsion at the ethical lapses of his employer leads him to piracy and bootlegging--all in a misguided effort to finance a return to his straight arrow ways
and
to get his girl. Morris, a really good actor whose film career never developed along the lines it should have due to bad luck and tailor his talent to pre-set studio patterns, appears most comfortable during the movie's action sequences, though the scenario gives his character a ludicrously muddled sense of righteousness, whether he is stealing from the rich or the bootleggers.
Above: Mayo Methot, looking rueful and wary in Corsair (1931) her first film in Hollywood.
Faced with the choices of a life of genteel crime, the possibility of poverty or marrying a rich heiress, most of us might not quibble, but that was the blander choice. As most critics pointed out in 1931, one of the best scenes in the entire film belonged to
Mayo Methot
, who is romantically involved with two rather seedy men: Morris' comrade,
Ned Sparks
and
Frank Rice,
as a tough bootlegger's henchman, aptly named "Fishface."
Her characterization of Sophie, an underworld stenographer (what was the job interview process like for that job?) who also types in Morse Code when needed, is the kind of ill-used woman whose turn to have her say has finally arrived, if only for a moment. Methot, who looked alternately tense, vulnerable and very hard throughout her brief part, is both touching and provides an excellent piece of bravada acting in miniature. The actress would occasionally pull out of such an underwritten role moments of poignancy and gritty truth in these early years of her career, waiting for a chance--if she was capable of it--to prove her mettle in a sustained characterization.. The other curiosity factor in
Corsair
is that it came near the end of
Thelma Todd
's brief life in 1935, (though
Roland West
has been implicated as involved on occasion, it does not appear that conclusive evidence one way or another will ever be produced).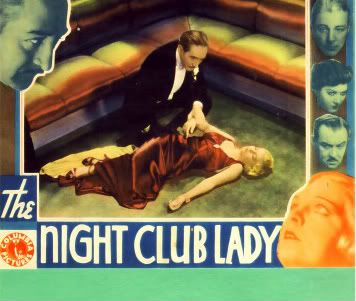 Adolphe Menjou
, Hollywood's favorite sophisticated cosmopolitan cad in the 1920s, played a different character than usual as dashing Police Commissioner Thatcher Colt, who springs to the defense of
Methot
, bringing in assorted minions from the NYC police department to protect the singer, including his devil-may-care pal,
Skeets Gallagher
, who never met a cocktail he didn't like. Soon, however, the nightclub owner's position as a potential victim changes, as her demise occurs while surrounded by cops, Gallagher and Colt himself. Her "victimhood" soon is called into question as Colt learns that Lola's enemies were legion, and that she had been an enterprising blackmailer on a large scale. Just as the potential murder suspect pool expands, other murders occur.
The more implausible story points are irrelevant thanks to brisk direction,
Menjou
's animated performance, and
Mayo Methot
's vivid playing of this role as a disagreeable but seductive character whose apprehension builds throughout the film. Looking at her most glamorous in this film, carefully photographed by Academy Award nominated cinematographer Ted Tetzlaff and gowned in and attractive series of evening dresses, this film may have marked Methot's chance at finding a niche as a second tier leading lady. For Menjou, this film was followed by one other Thatcher Colt mysteries, in
The Circus Queen Murder
(1933) and Sidney Blackmer took on the police commissioner role in
The Panther's Claw
(1942) in the next decade.
Unfortunately, due to the effect of alcohol on her petite appearance and face, at only around 27 years of age,
Methot
generally photographed a decade or more older than she really was. Hollywood, finding her unusual looks nearly unphotographable, treated her less kindly than the theatrical world she'd left behind, where her appearance could be softened by the footlights. Photographing as much harder than friends say she appeared in real life, she became typecast as "a nasty, greedy raddled woman."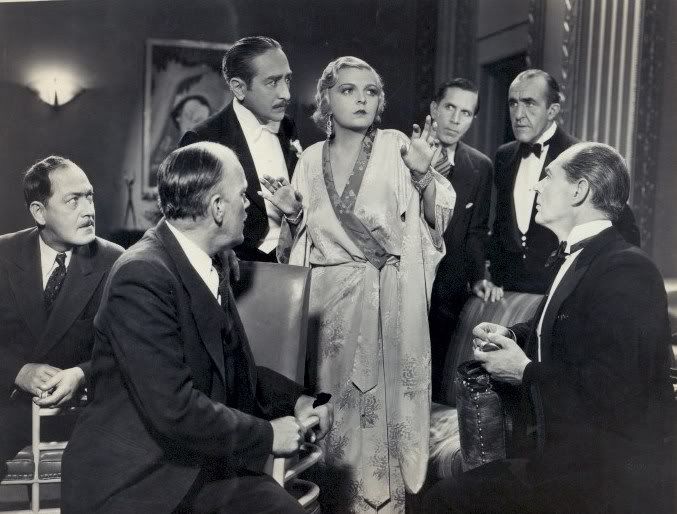 The Mind Reader
(1933), the grasping "Mrs. Semple" in Capra's
Mr. Deeds Goes to Town
(1936) would become her metier. Almost in her thirties, her disappointment keen and professional pride hurt, she found solace in the now habitual drinking that had begun in the early days of the speakeasy era. She must have realized that her ingenue days were done and her appearances in a few noteworthy movies in character roles indicate that she may have had talent flickering inside her.
Methot
's next film, the prestigious adaptation of
Elmer Rice
's splendid character study,
Counsellor-at-Law
(1933), seemed to promise better roles to come, since the actress scored a bulls-eye in a small part as a grateful and decidedly libidinous guilty client of star
John Barrymore
, (who gave a remarkable performance under the guidance of director
William Wyler)
.
Wisely,
Barrymore
's character, a successful attorney, shows his streetwise toughness in keeping his husband-killer client at an ethical distance.
One of her co-stars in the movie, future director
Vincent Sherman,
who had a small part as a rabble rouser whose fervor pricked the conscience of Barrymore's character would recall later that
Mayo
was "a talented actress who was hitting the bottle too much." In one of the few films that displayed his true stature as an actor,
Barrymore
attempted to stay sober during filming at Universal, working diligently to please the director, William Wyler and himself, giving what many feel was his best film work of his screen career. Despite this appearance in a good film, Mayo Methot, like "The Great Profile" himself, was not able to rouse herself consistently from her self-destructive path long enough to establish her career in film as a reliable character player assured of employment in the factory-like studio system.
The toll of her life on her appearance became especially obvious in another film, the Perry Mason programmer directed by Michael Curtiz,
The Case of the Curious Bride
(1935) starring the busy
Warren William
as
Erle Stanley Gardner
's litigious creation. This film, which astute movie fans will tell you also featured an early bit by
Errol Flynn
, allowed
Methot
to play a broad comic role pretending to be a dead man's widow.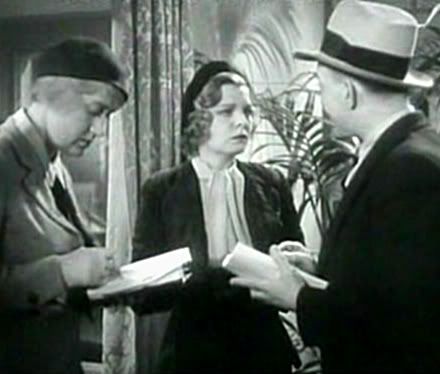 As seen above in her role as Warren Hymer's con artist sister, Doris, Methot had some showy scenes feigning grief and moving the plot along while being quite amusing. While the briskly efficient film is mildly entertaining, and
Methot
's mercenary imposter is amusing, it's rather sad to see that time has coarsened her face and thickened her body. What was once described as her flower-like appeal has become brassy, blowsy and common. Still, a romance with
Humphrey Bogart
, an actor who shared some similar difficulties with the studio system, would soon take on a more urgent tone.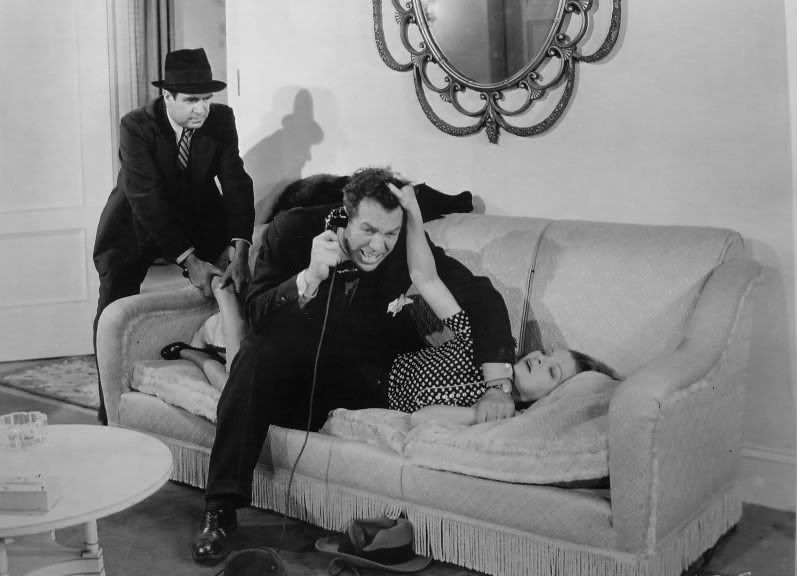 Methot
and
Bogart
appeared in the same film,
Marked Woman
(1937), their marriage was almost inevitable. Interestingly, the film was one of the few films in this period of the actor's career in which
Humphrey Bogart
had a chance to play a good guy, (albeit a stick figure of a d.a. based on NYC special prosecutor and notable stiff,
Thomas E. Dewey
).
Bette Davis
, in a tour de force performance as a feisty B girl who stands up to gangster
Eduardo Ciannelli
, plays a defender of the vulnerable older character played by
Mayo Methot
.
Marked Woman
, one of the gangsters appraises
Mayo
's character and says "Kind of old, aren't you? I need young dames here"..."the kind men go for in a hurry."
Davis
pipes up in her defense, insuring her presence in the nightclub where she and her cohorts ply their trade. Still, the words of the screenplay, which are about
Methot
's character, could have easily applied to
Mayo
too: "years of night life have already taken their toll of her simple beauty..." Methot, as the most despairing of the women, has very few lines but seems to alternate between expressions of sadness and fear. When Davis stands up for Estelle (Mayo Methot), she gains the respect of Eduardo Ciannelli as the gangster. Ciannelli's character and the basic situation in the film was based on notorious gangster Lucky Luciano who ran a prostitution ring. His name had appeared prominently in the press in 1934, when celebrated Special Prosecutor Thomas E. Dewey brought the mobster and his cohorts to trial for his organization and brutal tactics toward prostitutes under his control.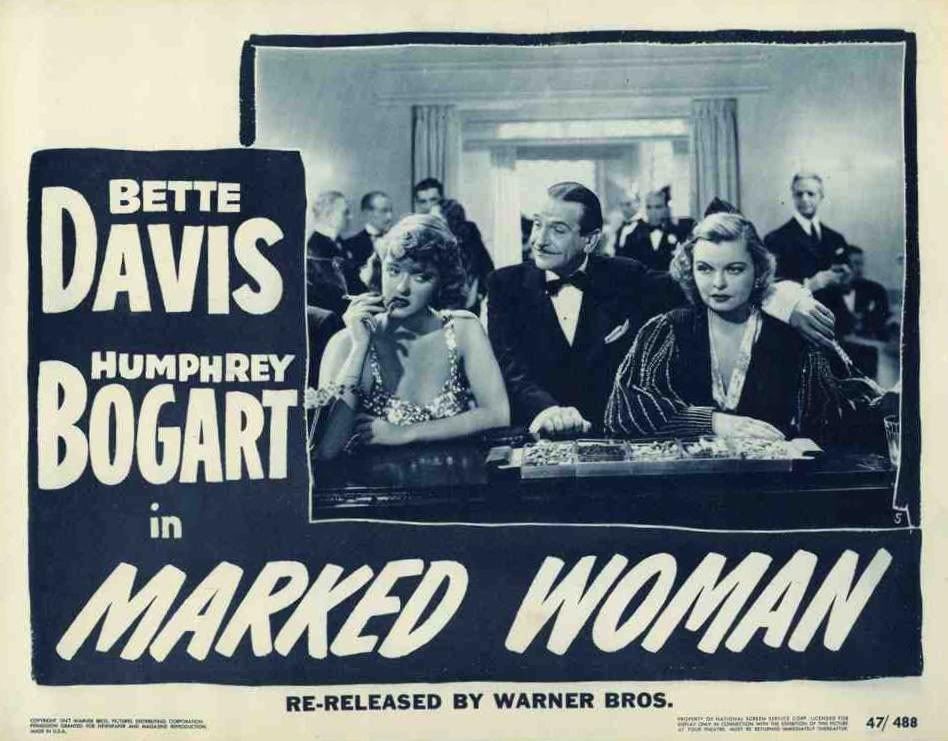 Due to the Production Code, the ladies in this film were described as "hostesses" in "the clip joint" where they work. The film, which provided an opportunity for Bette Davis to show her range, as she promises the mobsters who mutilate her face and kill her innocent sister (
Jane Bryan
), that "I'll get you, even if I have to crawl back from the grave to do it!" It might have been formulaic if there were not a certain amount of grit that the PCA did not remove from the performance by Davis and the palpable despair of her roommates, especially the plaintive face of
Isabel Jewell
, the hardness of
Lola Lane
and the depth of exhausted sorrow in
Mayo Methot
's every defeated gesture. The last scene of
Marked Woman
is particularly memorable, despite the triumph of the justice system, personified by
Bogart
. As he tries to thank
Davis
for her courage, he mumbles a cheery comment saying that he hopes he'll see her again. Instead of responding,
Davis
and her fellow hostesses, melt into the fog without a word.
More happily, it was on the set of this film, that Bogart and Methot--neither of whom were happy in their current marriages or in the drift of their careers, first gravitated to one another and became a couple. Their marriage came in the summer of 1938, followed by a massive party at their home, and a brawl that led the newlyweds to spend their wedding night apart.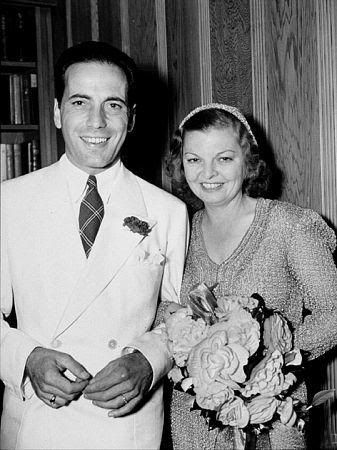 Bogart
, who like
Mayo
, would soon be divorced from his second spouse, New York actress,
Mary Philips
, puzzled some friends who could not understand their bond. However, as the actor explained, "I was born with [class], I've had it all my life--I can also do without it." Aside from what some saw as a sexual dance of death at times,
Mayo
had similar interests in common with her soon-to-be husband: acting, the sea, vivacious conversation, and no less important, drinking and unpredictably eccentric, iconoclastic behavior.
She was also fond of keeping house, a side of her personality that time and memory has largely erased. The couple often spent long hours together at their home, which included a menagerie. Bogart also liked Mayo's independent, capable mother, and would rely on her as an ally in years to come on several occasions. The couple particularly cherished their four dogs, which included a Scottie (who can be seen in Bogie's 1937 film
Stand-In
) and a Newfoundland named "Cappy", pictured below with the couple at home in a 1943 photo.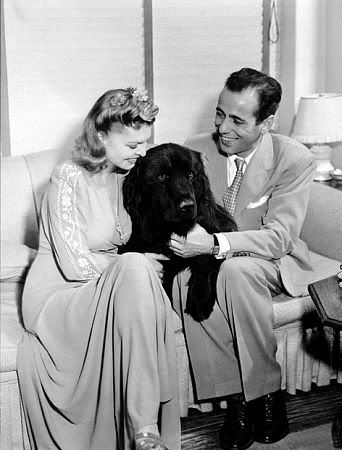 She also gave as good as she got, and, while a loving companion who bolstered the struggling Warner Brothers' actor's self-esteem, when drinking as the marriage spiraled on; fisticuffs between the pair flew. On one memorable occasion that was covered up by the studio, Mayo reportedly stored a steak knife in his shoulder.While today, we might characterize the relationship that developed as mutually destructive, it should be remembered that drinking, in public and private, was much more socially acceptable than it later became. As her career wound down and she was no longer under contract to any studio, Mayo described herself as a "retired housewife," though her frustration and growing jealousy of her husband and any of his female co-stars became more acute every year.
One of the Bogarts more notable public excursions was in 1939, when Warner Brothers promised that a "glamour train" of stars would arrive in Dodge City, Kansas on April 1, 1939 for the premiere of the new film of
Dodge City
starring
Errol Flynn, Olivia de Havilland
and
Ann Sheridan
. On board the train, which was equipped with a bar car called the Gay Lady Cabaret decked out in Western decor, were Warners contract players, few of whom were actually in the movie.
John Garfield, Gilbert Roland, Priscilla Lane, Alan Hale, Bob "Big Boy" Williams, Gilbert Roland, Frank McHugh, Ann Sheridan, Jean Parker, Buck Jones,
and
Hoot Gibson
were among the revelers who took this trip, which stopped in several towns along the way, promoting the movie, bringing commerce and all traffic to an immediate stop. They also caused enormous hoopla and made quite an impression on the civilians, to such an extent that was quite difficult for the Warner publicity men accompanying the stars to keep a lid on their behavior. From the stories that are told about that trip, one of the milder nights occurred when
Mayo Methot
, jealous over the attention that her husband was paying to the Lane sisters bunking next door to the Bogarts, chased her spouse through the length of the train with a broken bottle, though others claim she simply made contact with his skull using her high heel, a wound that Jimmy Starr, a publicist later wrote was caused by a sudden stop by the train. "The train stopped with two hundred jerks--and we all got off." a comment Starr's employers did not find amusing.
Above: On board "The Sluggy" the cabin cruiser that the Bogarts played and fought on during their marriage.



Bogart and his wife were soon well known for their public displays of disaffection, which led to their being banned from certain bars and Bogie tried to make light of it all by joking with the press about their growing reputation as The Battling Bogarts As
Humphrey Bogart
reflected much later about the death of his 35 year old sister,
Catherine
, which occurred during this early period of his relationship with
Mayo
, "She was a victim of the speakeasy era. She burned the candle at both ends, then decided to burn it in the middle." Yet drinking, for that "Lost Generation" that came into adulthood during Prohibition, was an intrinsic part of everyday life. In
Mayo
's case, it enabled her to be "one of the boys" and ease what must have been a sometimes painful life as a second and third tier player in Hollywood, and eventually, that most invisible of all creatures, a star's wife.
Bogie
claimed to admire
Mayo
's combative unpredictability, boasting shortly after their marriage that "I like a jealous wife, I can be a jealous husband too. Mayo's a grand girl. She knows how to handle me"..."We get on so well together [because] we don't have illusions about each other"..."I love a good fight"..."We have some first-rate battles. One of the important things to master in marriage is the technique of the quarrel."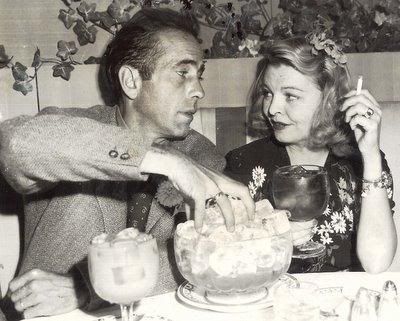 Humphrey Bogart
's frustration with the gangster roles that he was repeatedly handed by his bosses at Warners may have contributed to his mounting unhappiness, but
Mayo
's precipitous decline into alcoholism, depression and increasingly irrational rages also fueled his despair in this period. She would soon "retire", in her words, she insisted, "to concentrate on"
Bogart
's career.
With the arrival of World War Two,
Bogart
, with his wife
Mayo
, went on extensive USO tours, including several weeks in the Mediterranean during the invasion of Italy, where grateful GIs greeted the tough guy actor like an old friend. Singing, telling jokes and engaging in repartee with the battle weary servicemen while enduring tough conditions with few amenities (though quite a bit of alcohol, reportedly), the couple fought as well as they worked together during these sojourns abroad. During one particularly liquid visit with John Huston, who was making The Battle of San Pietro in Italy,
Methot
, in her cups, insisted on singing, despite the protests of the men. Her painful performance was reputed to have inspired a sequence in
Key Largo
(1948) years later. In that film, when Edward G. Robinson's girlfriend, played by Claire Trevor attempts to warble "Moanin' Low," the agonizing display may have been linked to Mayo's attempt to relive her own past by singing one of the songs she sang on the stage in her Broadway salad days.
The couple's performances may have been entertaining for the troops hungry for any distraction, though
Bogart
felt foolish and at a loss when asked to perform in variety skits or telling jokes. The couple, sometimes affectionate onstage and off, were also remembered for their offstage fights. Their disagreements were loud and sometime featured displays such as door-banging and object-throwing.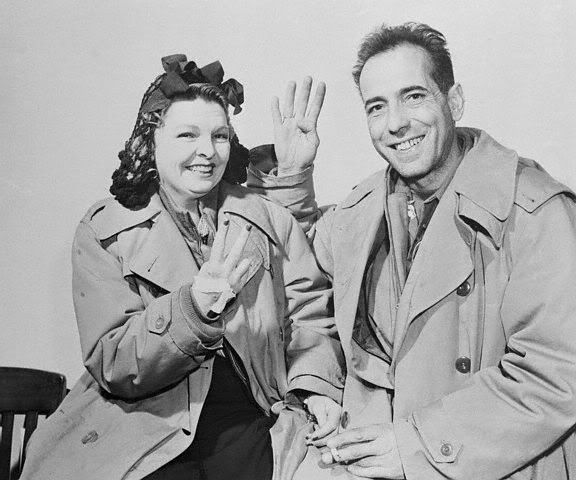 Bogart
, after years of building his career, was finally becoming a very big star, in fact the biggest movie star of his day by 1943.
Sadly, as time went on, her disoriented condition spilled over into
Bogart
's professional life, and despite the fact that he sought treatment for his wife's out of control drinking and mental state on several occasions, his bond to her had begun to fade even as his career finally began to improve markedly, beginning his remarkable period of work with
High Sierra
(1941). One perceptive observer, silent actress
Louise Brook
s, who had known both
Bogarts
in New York in the '20s and in Hollywood in the '30s, remarked that "except for
Leslie Howard
, no one contributed so much to
Humphrey
's success as his third wife,
Mayo Methot
...who set fire to him."
Brooks
asserted that "Those passions--envy, hatred, and violence, which were essential to the the Bogey character, which had been simmering beneath his failure for so many years--she brought to a boil, blowing the lid off all his inhibitions for ever."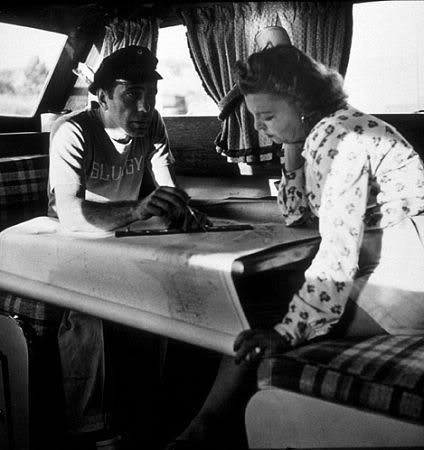 Still, by the time that
Bogart
walked onto the set of
To Have and To Have Not
, perhaps the actor, who had finally liberated his talent, might have felt like a drowning man, unable to save Mayo from herself and deeply sad about his personal life, despite his professional progress. The hope for some domestic happiness came in the person of his 19 year old co-star, with her youthful spirit and talent, willowy form, throaty voice and blonde waterfall of hair. The breaks and reconciliation attempts with his third wife that followed were exceedingly painful for him as for her, but inevitably the end of the marriage came.
Mayo
moved back to the Portland, Oregon area, where her mother still lived.
On June 9th, 1951,
Lauren Bacall
, on location with her husband while he filmed
The African Queen
had to break the news to
Bogart
that
Mayo
had been found dead in a motel room in the Portland area. He was quiet for a long time and eventually explained to Ms.
Bacall
that it was "Too bad. Such a waste. She had real talent, she had just thrown her life away."
Mayo Methot
was 47 when she died alone in a motel in Multnomah, Oregon, from the complications of alcoholism following a reported recent surgery for cancer. Her mother Evelyn Methot told reporters inquiring about daughter's death that she never took her film roles seriously, and that "it was just for fun." There were a dozen roses delivered every week to the crypt of
Mayo Methot
in her family mausoleum in The Portland Memorial cemetery. The roses ceased coming one week after the death of
Humphrey Bogart
in 1957.
Mayo
's few things after her death was a crumpled note in
Humphrey Bogart
's handwriting, written, most likely, following some forgotten fight during their time together. The 'Baker' he refers to is their mutual friend and confidante,
Mary Baker
:
Darling,

An afternoon with Baker has convinced me that we're both wrong--me the worst offender--I love and I love you.

Bogie
Sources:
"An Eight-Year-Old Boomer: Little Miss Methot Has Helped to Put Portland, Ore., on the Map."
The New York Times, Jun 19, 1913.
Atkinson, Brooks
,
The Play: Virtue in Ohio
, Aug 28, 1930.
Bacall, Lauren
,
By Myself
, Knopf, 1978.
Brooks, Louise
,
Lulu in Hollywood
, University of Minnesota Press, 2000.
"Great Days! Arrives with Youman's Tunes
," The New York Times, Oct 18, 1929.
"Dodge City has a Dodge City Premiere,"
Life Magazine, April 17, 1939.
Mayo Methot Dies; A Former Actress
, The New York Times, June 9, 1951.
Meyers, Jeffrey
,
Bogart: A Life in Hollywood
, Houghton Mifflin Co., 1997.
Sherman, Vincent
,
Studio Affairs: My Life as a Film Director
, University Press of Kentucky, 1996.
Sperber, A.M. & Lax, Eric
,
Bogart
, William Morrow and Co., 1997.
Weld, John
,
Fly Away Home
,
Mission Pub., 1991.
Widing, Roy
,
Whispers from the Rae Room
, www.whispersfromtheraeroom.com.
Update 3/12/09:
You can see my full capsule review of
Brother Rat and a Baby
(1940)
here
. As noted by several individuals who emailed me about this, there was a notable difference in
Mayo Methot
's screen persona seen on TCM in a recent broadcast of a B movie.
The other night I was bowled over while desultorily watching
Brother Rat and a Baby
(1940) to spy
Mayo Methot
as a fellow passenger on a bus with central characters
Eddie Albert
and
Jane Bryan
(with baby). What a change in her appearance and demeanor from just a few years before! The poor woman had gone from tough and bouncy and occasionally touching to just tough, wan and shopworn. It must have been particularly humiliating for the actress to appear in a role that was barely noticeable after hoping for a career upturn, particularly after her marriage to
Bogart
. The camera, which was never kind to
Mayo
's looks, recorded her physical deterioration with brutal accuracy here.
The image of Mayo Methot as a child actor by J. Willis Sayre appears with the kind permission of the
University of Washington Libraries. Special Collections Division.
A series of Mayo Methot images collected into a brief slide show form made recently:
Portions of this blog were originally published on the Movie Morlocks Blog at the TCM website on January 16, 2008 and reprinted here with their kind permission.
Last Updated January, 2011.