Mark Hellinger
died of a heart attack at only 44 years of age on December 21st, 1947, his relatively young passing inspired more than a pang of concern for one's own health among the more self-absorbed citizens of Los Angeles. For, unlike the average producer,
Hellinger
was sincerely mourned, privately and publicly.
Pity the poor average Hollywood producer. Often ruthless, sometimes clueless and occasionally just a son-in-law needing a job. No one is supposed to love a Hollywood producer from the studio era. Most of the time they are caricatured as a one-dimensional figure that is justifiably mocked for some alleged crassness, lecherousness or penny-pinching. Creativity, generosity and imagination as part of package don't seem to fit the cliché.
The old, possibly apocryphal joke, goes that when
Harry Cohn
, one of the last of the breed from the studio era as the ultimate boogie-man-as-producer who was head of Columbia studios died in 1958, an observer, (supposedly Red Skelton), commented that "it only proves what they always say -- give the people what they want, and they'll come out for it." Interestingly,
Cohn
, in attendance at the Beverly Hills service at All Saints, pulled aside a friend in the church during the Christian service and whispered, "Why isn't it Jewish?" The irreverent agnostic
Mark Hellinger
, who was the son of prosperous Orthodox Jewish parents, might have found this moment amusing, since he claimed that he couldn't subscribe to any formal religion.
Ernest Hemingway
, who liked
Hellinger
and had been "somewhat pleased" with the early scenes of the Hellinger produced
The Killers
(1946), claimed that the hard-living Mark had "death sitting on his shoulder."
Hellinger
, who'd suffered at least one serious heart attack prior to his demise, would shrug off many of the concerns about his drinking, working and frantic pace, with a philosophical jest about wanting to see if 16th century Francois Rabelais' iconoclastic hope that if the end came, he'd soon be "off in search of a great perhaps." While
Hellinger
couldn't in good conscience commit himself to the creed of anyone, not even the faith of his fathers, he could never be accused of forgetting his roots, for wherever he went, whether Hollywood or the South Pacific, he was inimitably a New Yorker.
Public memorials for
Mark Hellinger
took place on both coasts, at All Saints Episcopal Church in Beverly Hills in the west and at the Frank E. Campbell Funeral Home in New York City. Most of his friends and some of his enemies attended. They were a diverse crowd, most of whose names would bring no flicker of recognition in 21st century readers, but a few faces, such as
Humphrey Bogart
,
Lauren Bacall
, restaurateur
Mike Romanoff
, baseball legend
Joe DiMaggio
, mogul
Harry Cohn
, and actress
Ann Sheridan
might still interest some. Those who looked at the waxy figure to be seen beneath the glass of the coffin looked away quickly at the Episcopal church, murmuring a sincerely felt "Better to remember him as he was", as
Bogart
did when he drew his young wife away from the sight of their friend.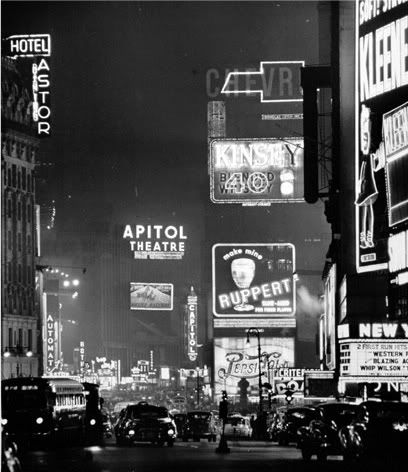 Times Square in New York City in Hellinger's era.
A man of many parts, native New Yorker Hellinger "as he was" included a nationally syndicated columnist for the Hearst tabloid, The New York Mirror, a lively rag created to directly compete with the grittier New York Daily News, that even the management claimed "was 10% news and 90% entertainment."
As a contributor to this paper, he wrote two columns dealing with the great, the good, the devilish, and the forgotten inhabitants of the city, specializing in sketching vivid accounts of their adventures—some of which were true and others that were composites of a reality that centered on Times Square and Broadway. Beginning in the roaring twenties, "About Town", which appeared three times a week and a Sunday column called "All in a Day", made
Hellinger
's reputation and his considerable fortune as it documented the demi-monde world of
Texas Guinan
,
Dutch Schultz
and Mayor
Jimmy Walker
favored by
Walter Winchell
,
Damon Runyon
and other newspapermen of the period.
While
Hellinger
would count as a friend many famous and notorious New Yorkers from this bright, guilty world, his slick writing style was never quite as fluid as his some of his contemporaries, but it would be distinguished by a gruff sympathy for the anonymous men and women who kept the city alive with their hard work and dogged determination to hang onto life in the Big Apple. Janitors, cops, shoplifters, chorus girls and shopkeepers--all mos likely his readers--were as likely to pop up in his column documenting the Great White Way as the dazzling successes.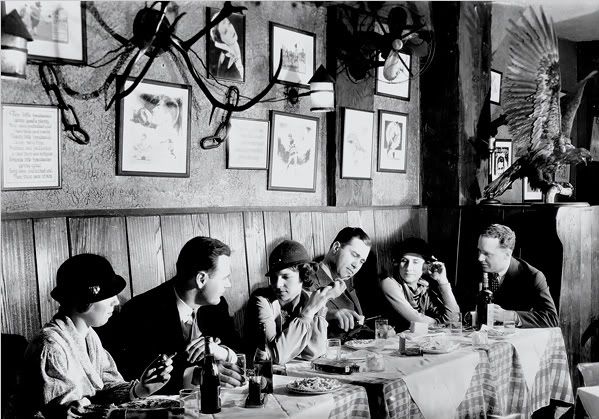 A New York Speakeasy in 1933 (Photo: Margaret Bourke-White)
In his own life,
Hellinger
soon became known as a soft touch. He would carry ten dollar bills folded into the size of a postage stamp with him, just to have something to give to all those who cried out from cabs and doorways, "Hiya, Mark!" when they spotted him on his rounds. Some would repay him when he loaned them money to get by during a rough patch, but most would repay him by giving his later films a juicy bite of reality, by providing him with a wealth of human behavior to draw upon for inspiration and understanding.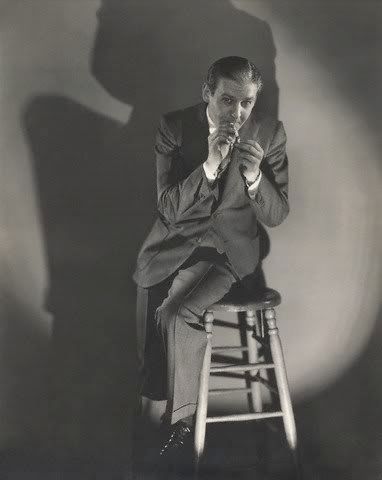 Walter Winchell in 1929. Winchell was both friend and rival to Mark Hellinger.
Winchell
, who could name few real friends among his thousands of acquaintances, would recall the time during Prohibition when both he and Mark were amassing stories and connections that were their real treasure. Sitting together during their long nights in one of numerous speakeasies in New York together, they confided in one another, despite their professional competition. If an occasionally exhausted
Winchell
ever wondered aloud why they bothered to write about the ephemera of the city's life,
Hellinger
, with his patent leather slick black hair, and merry blue eyes sparkling beneath a snap brim hat, would simply remind his friend of their mutual pursuit with the words, "Adventure, Walter. Adventure."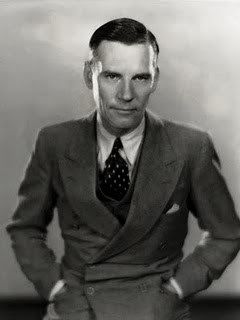 Walter Huston in the early '30s when he appeared in the pre-code, Night Court (1932), based on a play by Hellinger and Charles Beahan
On top of this he had a radio show for a time called
Penthouse Party
, and he wrote two books, all the while knocking out 13 screenplays, beginning with 1932's MGM production of a play he'd written about urban corruption.
Night Court
(1932), starring
Walter Huston
as a deliciously corrupt judge, (seen in the photo at the right), outlined the real callousness and injustices of the big city toward the powerless with some passion, a little pathos and some inherent social commentary that never got in the way of good tale. Eventually went on to produce 24 movies, the last of which,
Naked City
(1948) is so full of his own oddly powerful mixture of cynicism and sentimentality that it may still influence us today.
Having attended an early preview of the film despite his precarious health, Hellinger had what he'd described as a bad cold that he just couldn't shake. Despite this, just hours before his death,
Hellinger
was described by his wife,
Gladys Glad
(a former Ziegfeld showgirl once described as "America's most famous beauty"), as on the phone at home, screaming into the phone to a minion at Universal Studios, that all the aspects of this police procedural, directed by the talented young
Jules Dassin
, needed to be tweaked according to the production team's wishes, despite the fact that the filmmaker was breaking his ties to the studio to form, with his friend,
Humphrey Bogart
, a new, wholly independent production company. The hope would be that all the stories that
Hellinger
still had to tell might finally be told without studio interference. The reality was another, more complicated story. The hallmarks of
Mark Hellinger
's movies and his fast-paced hunt for adventure in his brief life was reflected in every action.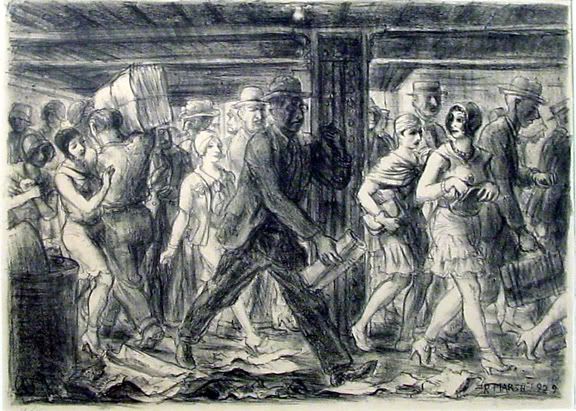 Artist Reginald Marsh shared an appreciation for New York with Hellinger, as seen above in the artist's depiction of Penn Station (1929).
Mark Hellinger
loved "the lullaby of Broadway--the hip-hooray and ballyhoo, the rattle of the subway trains and taxis, the folks who entertain at Angelo's and Maxie's" in all its crowded, tawdry glory. Writing at a time when newspapers took on an even greater role in chronicling (and creating) news,
Hellinger
had, by the early '30s, achieved a certain amount of personal fame. He wrote regularly of the antics of
Texas Guinan
,
Dutch Schultz
was a drinking buddy, and he was a regular at ringside whenever a
Dempsey
, a
Louis
, or a
Schmeling
took to the ring.
As perhaps the first Broadway columnist and a leading daily documentarian of the approximately 1.8 mile square area known as the Great White Way, he contributed to the creation of the American celebrity culture with his nods to the famous and the notorious. He also, soon grew tired of the daily grind of newspaper writing, though he certainly liked the fame that went with his youthful success.
As an example of his influence while still still in the newspaper business, he'd accompanied singer
Al Jolson
and his new bride, 19 year old dancer
Ruby Keeler
on their honeymoon to Europe in 1928*. The continent, in
Hellinger
's sometimes parochial view, was loathsome, largely because it was not New York. His third wheel status on the honeymoon did not bother
Hellinger
, since he regarded it as great publicity. Yet, as he sent increasingly bored columns back to the New York Mirror about life on ship and on the continent, his discontentment became more obvious. He loved being famous, certainly. (One of several irksome things that Hellinger disliked about Europe was that no one knew who he was. There were no truck drivers or cleaning ladies or bartenders who called hello as he passed on the streets of London and Paris. He missed the intimacy of Gotham).
Mark Hellinger
's odd presence on the
Jolson
's honeymoon was reportedly payback because a grateful
Jolson
was pleased that
Hellinger
had used his influence with gangster
Owney Madden
to prevent
Jack "Legs" Diamond
from extorting $50,000 from
Jolson
as "protection" money just before his marriage to
Keeler
. Some also say that Hellinger eventually inherited an armored car from
Diamond
, (others say it was a legacy from another dead tough guy). Eventually that car, which was exceptionally heavy, was hoisted onto a train car and sped west with its owner, once he took the bait dangled by Hollywood in 1937.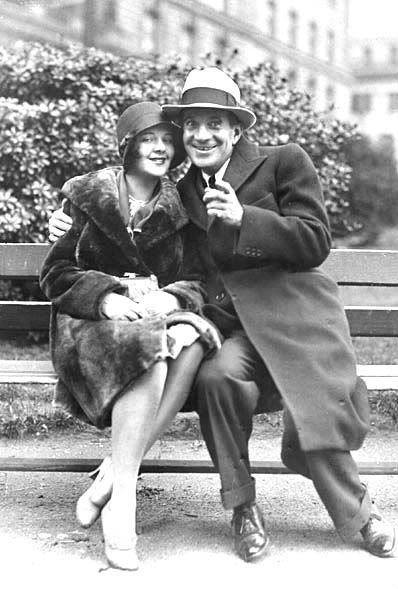 Ruby Keeler and Al Jolson on their honeymoon (after apparently having given Hellinger the slip)
As he scaled the heights of Broadway columnists, he also began to find the daily grind of churning out columns more tedious. He began to look for inspiration and story ideas among his public. He took many of the column suggestions received by his staff at the office and incorporated them into his own columns, hoping to document the hopes and joys of the characters and the anonymous people he prized. Sometimes he chose to acknowledge the contributions for ideas to one of his readers, other times he did not. This practice was not uncommon in the rambunctious world of daily papers in the '20s and '30s. Lawsuits occurred on occasion, but little came of it, though some found his sudden twist endings to his fictional endings rather familiar.
Snap brim hat, double breasted suit, and plenty of attitude: Mark Hellinger, man-about-town.
Mark Hellinger
would be the first to admit that he was
not
an original prose stylist. The cold truth was that the columnist, who was read each week by an estimated 22 million, occasionally fancied himself a short story writer, playwright and screenwriter. Despite this, he was not a particularly literate man. Yet he loved a good story.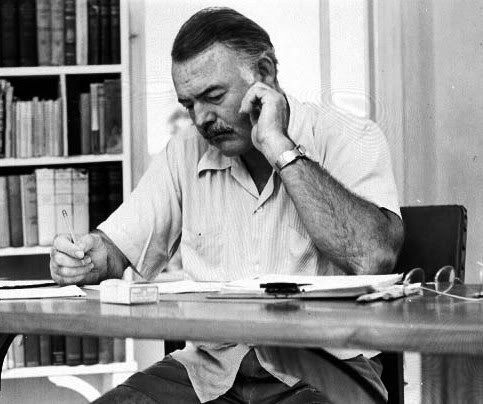 Ernest Hemingway, a contemporary literary hero to Hellinger, who would become his friend.
If he could have mimicked any writers, the two whose gifts he might have longed for, and whose styles he often tried to emulate, were
O. Henry
and
Ernest Hemingway
. Hellinger loved the terse elegance of
Hemingway
's prose and tried to adopt it in his "reporter's telegraphese". The columnist, when describing a beauty contest winner would write, "She was pretty. Very pretty." In one column describing a bullet-riddled mobster, he even approached self-parody, writing, "He was dead. Very dead." Clearly, Mr.
Hemingway
didn't need to lose any sleep over
Hellinger
's competition.
Hellinger
was closer in spirit and tone to
O. Henry
, with whom he shared his love of New York and all its denizens. The turn of the century short story writer and jailbird,
O. Henry
, writing a generation before
Hellinger
, was actually
William Sydney Porter
.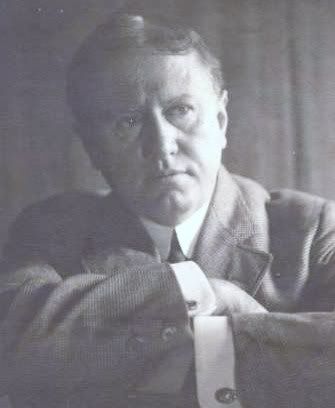 O. Henry, an early literary model for Hellinger
Loving the variety of life and experience to be had in his adopted city,
O. Henry
had christened the metropolis of New York City "Bagdad-on-the-Subway" and, like
Hellinger
, he had a natural affinity for those who'd done time, particularly since
Porter
had been imprisoned for embezzlement in Ohio for three years himself, beginning in 1898. Adopting the slice of life realism and ironic endings of 19th century French author
Guy de Maupassant
, O. Henry had perfected the story ending with a twist that became synonymous with his stories. The reporter's two books of short stories published in the thirties are "Moon Over Broadway" and "The Ten Million".
One of Hellinger's early books, published in 1931.
The Naked City
,(1948) he ends the film with words that also echo
O. Henry
, declaiming that "There are eight million stories in the naked city. This has been one of them."
In
Hellinger
's columns, the surprise ending borrowed from
O. Henry
sometimes meant that a fictionalized account of a showgirl, who, while seemingly devil-may-care and the toast of New York, would end up in a cold water flat with tuberculosis, with flowers sent to her regularly and anonymously by a hoodlum who loved her. Other times he would document the pretend infidelity of a fashionable wife for her rakish husband, only to have
him
divorce her. In writing of the lonely death of a fellow reporter who'd always been chronically late for a story,
Hellinger
said that the reporter's sister, who had thought that his ashes had been delivered to her, had opened the urn to show him that it was empty and laughing bitterly, said "Isn't that just like Ed?"
Weegee's city streets were softened in Hellinger's writing.
Hellinger
attempted to introduce several purely fictitious characters in his column, including letters from a and one, a Polish immigrant named Wladek Hravlek became a regular feature for a time, writing in dialect about his impressions of life in the New World. While these characters were often close to the hearts of his public, even when they were actually a creation of an accommodating rewrite man in the city room of the newspaper,
Carl Winston
. Another brought the observations of Myrtle the Manicurist to the readers, and one regular column was alleged to be the Letters from an Office Boy. As entertaining as these might be, these sometimes sentimental and occasionally morbid columns and characters reflected a dark streak in the columnist's makeup. He had become preoccupied with the irrevocable nature of Death early on in his career.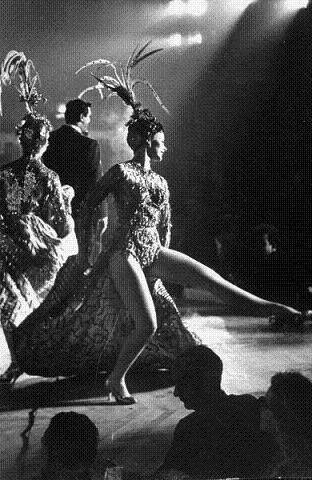 New York Show Girls in the 1930s were a part of Hellinger's world.
In his files, page after page of his column with items about those who became famous in New York had penciled notes in
Hellinger
's handwriting attached to them, noting that the person often being praised in print in his column was dead within a year of pneumonia or a bullet or suicide. When he was a mere 25 years old, he suggested his own epitaph: "Here lies a brave man. He was funny looking. He never did much for anybody. He wrote the most awful puns. He never amounted to much. But he was a brave man just the same. He once judged a beauty contest for redheads."
This darker and more reflective side of
Hellinger
's sometimes sentimental writing that was emerging at this time hardly reflected the desires of the newspaper editors or owners.
Hellinger
, who chafed under any supervisor, did not take kindly to the edicts for more sass, less schmaltz. Eventually an ultimatum came from management to have a column much more like that of his friend,
Walter Winchell
. Short on prose, long on gossip, with blind items, and regular references to the great figures of the day such as
Lindbergh
,
Hoover
and much-married model for
Gentlemen Prefer Blondes
' "Lorelei Lee" character,
Peggy Hopkins Joyce
. Hellinger knew that this was not for him. He looked, like Alexander at around the same age, for new worlds to conquer.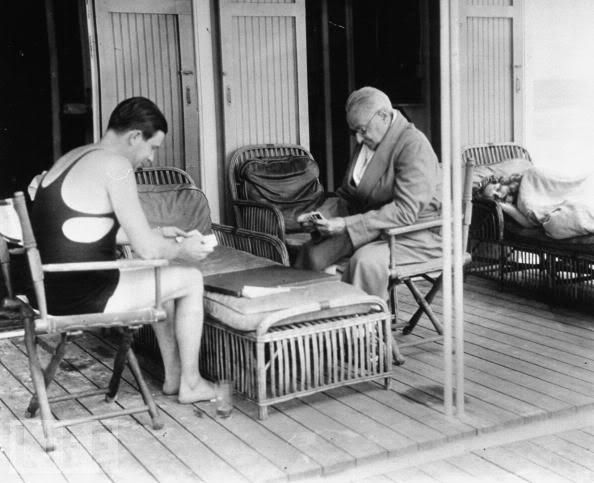 Hellinger playing cards with Flo Ziegfeld while on vacation
In his columns, he may have enjoyed writing the fictionalized accounts of the showgirls and shopgirls, the immigrants and the hoodlums more than he did the gossip items. He'd take a story of a husband and wife, (often modeled on his own sometimes shaky marital state with wife and Ziegfeld shoe.wgirl,
Gladys Glad
), embellish it with some truths and much fiction and present it to his readers as an example of life in the Big Apple.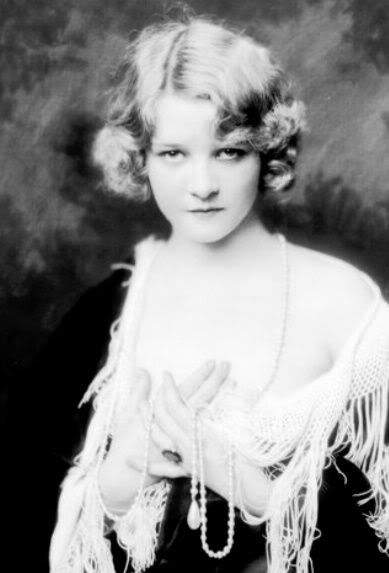 Gladys Glad the Follies beauty, child of the jazz age, a newspaper columnist on beauty, and Mark Hellinger's only wife.
Mark Hellinger
met his beautiful future wife at one of the endless series of beauty contests sponsored by publicity hungry newspapers in the roaring '20s where he was one of the judges. (Guess who won?). The willowy Bronx native, whose nasal speech belied her lovely face and form, was fourteen and already a veteran showgirl. She was also being paid more than
Hellinger
was on a weekly basis for gracing the
Ziegfeld
productions with her presence in musical comedies of the time such as
No Foolin'
,
Rosalie
,
Rio Rita
and
Whoopee!
She would marry
Hellinger
in 1928 and, within about 3 years, would be retired from show business. Though they broke up and reconciled several times,
Gladys Glad
was, despite her husband's constitutional inability to be completely faithful, generally acknowledged as the love of his life. Called "Glad" by all who knew her, she was the mainstay of a very poor family who could match her husband drink for drink, and give him the benefit of her exceedingly sound understanding of the world--when he listened.
Mark Hellinger mugging it up for the camera while out on the town with Gladys Glad.
Hellinger
's equally turbulent love affair with the movies began in earnest during their 1929 honeymoon in Los Angeles. After several weeks of partying, describing the residents as "farmers" with a narrow view of the world and pronouncing such figures as
Clara Bow
and
Lilyan Tashman
to be tough little cookies and snobs, he labeled Hollywood as "the nuttiest place I've ever seen. Still, I'd like to go back."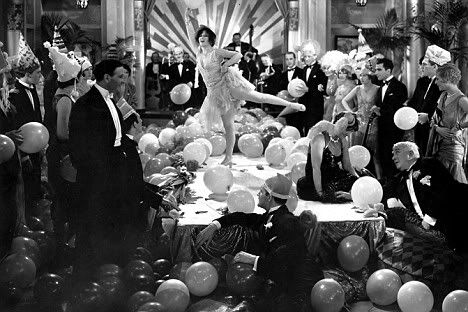 A "typical" Hollywood party as seen in Gold Diggers Of Broadway (1929)
Alternately praising and denigrating the products of the Dream Factory,
Hellinger
longed to be paid some of the long green cash that other writers collected during the Depression. He'd been impressed by the
Faulkners
,
Fitzgeralds
and
Benchleys
who moved to the coast when talkies came in to provide dialogue for the shaken film colony. Still,
Hellinger
may have realized that he was not in the league of any of these writers. He also saw how little appreciation these writers were given by their studio employers and the futility of most of their efforts to help make the movies more realistic or literate. While
Night Court
(1932) and the delightful Frank Capra film,
Broadway Bill
(1934) were two films adapted from
Hellinger
stories. They were moderate successes, and nearly forgotten for the next fifty years after their completion and exhibition.
Hellinger
eventually signed a five year contract with Warner Brothers in 1937 to write and produce projects for the gritty studio that spawned
Cagney
,
Robinson
,
Raft
, and
Bogart
. It would seem to have been a natural fit. In an unusually cautious move for
Hellinger
, he kept, at his wife's insistence, his job as a Sunday columnist. As a novice producer, she argued, he was at the mercy of Jack Warner and company. As a columnist, he could maintain his independence and power.
His first project, announced initially for
Bette Davis
, was an adaptation of Faith Baldwin's
Comet Over Broadway
. After Miss Davis summarily rejected the tyro
Hellinger
script, the project was eventually given to falling star
Kay Francis
, who, it was common knowledge, deliberately given the worst vehicles on the studio's shelf in an effort to finish out her expensive contract as rapidly as possible.
After this unfortunate beginning,
Hellinger
was assigned to
Bryan Foy
's "B" picture division as part of the Warner Brothers First National unit.
Foy
, a show biz veteran as the son of legendary vaudevillian
Eddie Foy
, was sympathetic and knowledgeable realist.
Hellinger
said many times in the years to come that "I learned more in that first year working with Brynie than in all the years that followed."
Foy
emphasized the need to tell stories with as little dialogue as possible, which
Hellinger
applied as much as he could to his assignment on
Hell's Kitchen
, working with the
Dead End Kids
and the future president and new contractee at Warners,
Ronald Reagan
.
Hell's Kitchen (1939) was an inexperienced producer's lesson in what not to do
The reviews for the film noted that there was a more serious approach to the increasingly unfunny crimes committed by
Leo Gorcey
and company, who were portrayed as neglected children of the streets, caught in an unfeeling bureaucracy. More important than some pretty good reviews, from the
Jack Warner
viewpoint, was the fact that the movie made money, as did the last
Kay Francis
programmer of her contract at Warners, directed by
John Farrow
.
Women in the Wind
(1939), which has good performances and snappy dialogue (delivered with verve by
Eve Arden
) may have seemed to be "very small potatoes" to
Hellinger
, but it holds up rather well.
As
Hellinger
began to become more familiar with this brave, new world, he moved into a lavish 11 acre estate found by "Glad" that was remarkably opulent, even for Hollywood. He took assignments at Warners in his stride, but gradually, he found that working on a script of his own devising, called
The World Moves On
, appealed more to him than his workaday projects. Eventually, he showed it to his studio boss after Foy,
Hal Wallis
, who loved it. As a matter of fact, the studio loved it so much that they changed the name of it to
The Roaring Twenties
, and told
Hellinger
that it was
too good
a story for him to produce! The story, which centered around three young veterans of World War One, blended the scenes of
Hellinger
's early youth and experience: the nightlife, the bootleggers, the performers and the chiselers who thrived during Prohibition.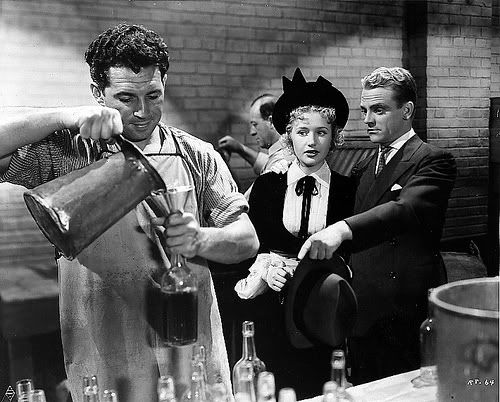 Jimmy Cagney with Priscilla Lane in The Roaring Twenties (1939)
Hellinger
acquiesced his proprietorial feeling for the script only to the point of allowing experienced scenarists
Robert Rossen
,
Jerry Wald
and
Richard Macaulay
to help shape it into a shooting script. Sleeping at the studio, working 24/7 on the movie, he was quietly delighted to find the cast included
James Cagney
, an old drinking buddy from NY,
Humphrey Bogart
, songbird
Priscilla Lane
and veteran character actress
Gladys George
would play a role seemingly as hard-boiled yet decent as the real
Texas Guinan
. Perhaps best of all was the fact that it was to be directed by
Raoul Walsh
, one of the first directors he'd made friends with in LA during in his honeymoon visit in the late '20s. The production went smoothly and with
Walsh
's breakneck pacing and
Cagney
's dynamism and
Bogart
's malevolence, the film became the talk of the studio. It would also mark the last time that Bogart would appear opposite
Cagney
on film, as the typecast
Bogart
would emerge as another kind of leading man in the early 1940s, thanks in part to
Hellinger
.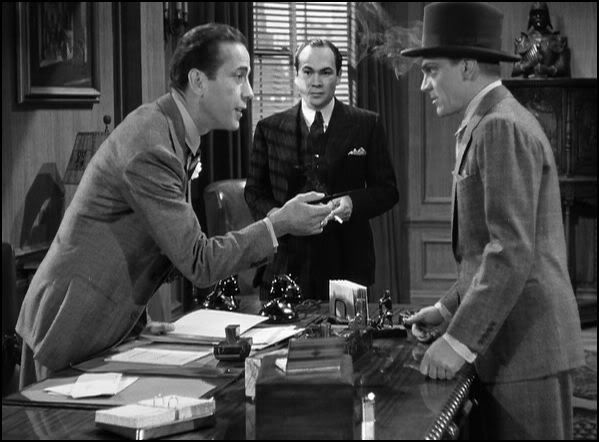 Bogart riding high and taking his revenge on Cagney while Abner Biberman looks on in The Roaring Twenties (1939).
In this film,
Humphrey Bogart
's chilling portrait of a fellow veteran bootlegger with a sharper killer instinct and the edgy imagination to survive the changes in the economic landscape is in sharp contrast to
Cagney
's character, who, frankly, is lovable, impulsive, a hard worker and very human. Finally, he is not overly bright in the eyes of others or in his own frank self-assessment.
Cagney
is further hampered by his capacity for his ties to others--F
rank McHugh
as his pal he is unable to protect, his equivocal relationship with the pining
Gladys George
character (based on Texas Guinan), and his hopeless unrequited love for
Priscilla Lane
's straitlaced
chanteuse
. Most of all, his fate is sealed by his naiveté, though he has a kind of release and triumph by the time that The End comes up on the screen.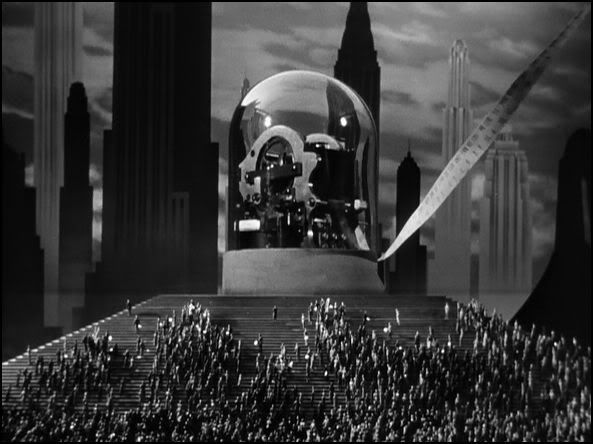 The superb montages by Edwin DuPar and Byron Haskin in The Roaring Twenties (1939) complemented the level of energy and impact of the actors in this Raoul Walsh film, enhanced further by Haller's crisp black and white cinematography and Jack Killifer's punchy editing.
The wonderful period music of the movie, giving poignancy and punch to the story with songs such as "It Had to Be You," "My Melancholy Baby," and "I'm Just Wild About Harry," was truly infectious. Warners' publicity dept. worked overtime promoting the film and the music on radio shows such as
Kate Smith
's and in
Life
and
Look
magazines. When the film opened to raves,
Hellinger
's old friend
Winchell
entitled his column devoted to the movie, "When Mark Hellinger and W.W. Were Sweet Sixteen".
Cagney and Gladys George, seeking solace as best they can while on the down side of capitalism.
One thing did irk
Hellinger
. An actor named
John Deering
had been hired to do the narration, setting the tone of the film and bridging the story together in the period of Prohibition that
Hellinger
knew firsthand. Someday, the writer-producer told himself, he might find a way to do the job himself. As it was, he received no credit as even an associate producer, though he did receive acknowledgment for his story in the credits. Once the film opened, however, and proved a smash hit for all concerned, he was made.
"He used to be a big shot.": Gladys George with James Cagney in his moment of transcendence in The Roaring Twenties (1939).
His next project, the charming, low budget, low key
Humphrey Bogart-Ann Sheridan
movie,
It All Came True
(1940), about a gangster hiding in a theatrical boarding house, was based on a novel by popular writer,
Louis Bromfield
. Originally planned for Warners' star
George Raft
, it had been rejected by him as unworthy and described as a "goombah" part only worthy of a second tier actor such as
Bogart
.
Hellinger
, who'd first seen
Raft
when in the '20s dancing frenetically in speakeasies for pennies, accepted this high-handed attitude and felt that Bogie could bring more to the part in any case. The part of the gangster hiding out in a boarding house gave
Bogart
a rare opportunity to play in a lighter comic vein than usual, and the sarcastic repartee between the actor and his co-star, the young
Ann Sheridan
is a delight to hear. While Sheridan's soiled dove character seems to be involved with the dull straight arrow character played by the luckless Jeffrey Lynn, it is the chemistry between Bogart's hoodlum and Sheridan on screen that crackles with a wised-up, intelligent sexiness that was too often rare in films after the Production Code came into force. Btw, was there ever a leading man that
Ann Sheridan
didn't make look better? The screenplay was credited to
Michael Fessier
and
Lawrence Kimble
, with uncredited contributions from future director
Delmer Daves
and
Hellinger
himself. Relations between Hellinger and Hal B. Wallis began to show strain at this time after print ads appeared crediting the powerful Wallis as executive producer, with no mention of Hellinger, despite the critical and box office success of this economical feature film.
Ann Sheridan and Humphrey Bogart in It All Came True (1940).
The film, which does not seem to have much of a following among cinephiles, has some
Hellinger
touches: time is spent on characters and incidents that do not seem to progress the plot, such as a demonstration of the dubious theatrical skills of the boarding house tenants. This tendency to dwell on the peripheral characters, as well as leads was characteristic of the tyro producer's developing style though it would become more economical as he went on. The relatively long sequence just centered on the incompetent magic act performed by a terribly serious
Bressart
for his fellow boarding house residents is almost the centerpiece of this story, which really didn't have much plot, other than Bogie trying to avoid arrest and turning the house into a club with a Gay Nineties' style.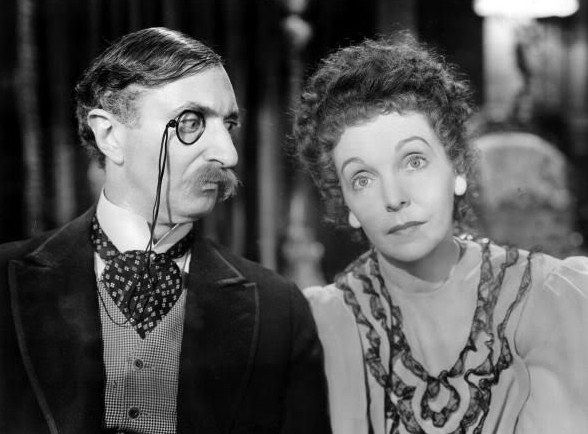 Felix Bressart and Zasu Pitts in It All Came True (1940)
The leisurely scenes devoted to such character actors as
Felix Bressart
,
Zasu Pitts
and
Una O'Connor
and the warmhearted and relaxed reactions of
Ann Sheridan
and
Bogart
make this film different and diverting entertainment. Nothing much happens, but life and the characters sketches in this movie have some charm. It would not be the last time that
Hellinger
and
Bogart
had their careers enriched by
Raft
's shortsightedness.
An absurdly entertaining potboiler about a banana plantation,
Torrid Zone
(1940), both proved to be box office winners and moderate critical hits. The film was invigorated by an unlikely looking, mustached
Cagney
and
Pat O'Brien
as friendly enemies, along with Miss
Sheridan
again and in an unlikely bit of amusing casting,
George Tobias
as a bandito disrupting the delivery of the chiquita bananas. While these films occupied Hellinger's time and his quart a day brandy habit and perpetual cigarette between his fingers seemed to steady him, it was work that the pursued with a vengeance. The distraction offered by the intense work was supposed to be consolation for some of life's blows.
Drinking heavily, weighing over 200 pounds,
Hellinger
had found himself unable to sleep and distracted and irritable with his wife. He had begun to hit his stride in the movie business, but it was the death of the last member of his immediate family, his 25 year old brother
Morrie
, from endocarditis, that brought Hellinger's intimations of mortality into clearer focus. Ironically, it also marked the beginning of the period of the writer-producer's best work.As we continue our look at
Hellinger
's life and work, the imaginative forces that drove him become clearer, as would the limits on his strengths and weaknesses.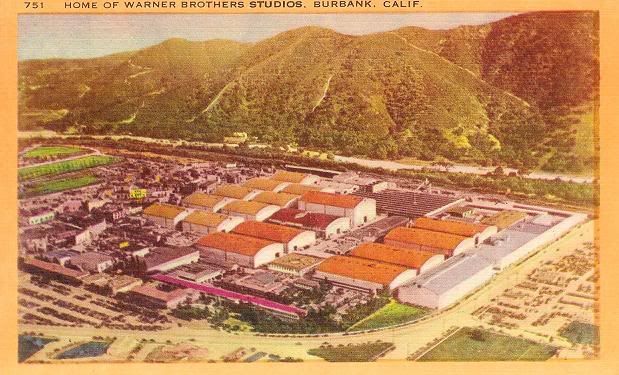 Warner Brothers Studio in Burbank in the 1940s
After the success of
The Roaring Twenties
, (1939) Mark Hellinger was one of the fair-haired boys on the Warners' lot. Prowling the sprawling studio lot in his somewhat outlandish standard dark shirt, white tie, and snap brim hat, his hair always slicked back, he looked like a darker, more genial version of his contemporary and fellow Warner Brothers employee,
George Raft
. In an average day,
Hellinger
would probably speak with a hundred people at the studio and in the bars, racetracks and restaurants he roamed through. Some would be powerful execs such as
Jack Warner
or
Hal Wallis
, who expected a great deal of the Associate Producer, if he ever wanted to become an Executive Producer. Others might well be messenger boys, stenographers, grips or carpenters, who expected little from this hot shot, though they were often surprised to learn that he was alert and apparently interested in how they experienced life. As he became more comfortable in the West Coast world,
Hellinger'
s restlessness also grew. He was becoming increasingly touchy about what he perceived as his lack of recognition at his home studio. He also began to understand his own weaknesses and his strengths in the Hollywood scheme, as he consciously sought to build his reputation.
Mark understood that as a nationally known columnist, he had loyal readers throughout the country, not least of all among other journalists, publicity agents and regular people. In the next few years, the columnist/producer would begin to screen his movies in various cities with key newspapermen and radio broadcasters, guaranteeing goodwill among his peers and often better promotion for his product.
Hellinger
's goodwill among everyday people in LA and NY was based on his column's hard-boiled compassion and his well-founded reputation as a legendarily generous tipper. With his usual flamboyance, Mark was capable of picking up very large bar and restaurant checks regularly. The years as a newspaperman spent cultivating the friendship of many insiders and gaining an encyclopedic knowledge of all manner of business, political, entertainment, newspaper, social and crime gossip were all to be useful in Hollywood. When receiving a phone call from a well-meaning friend with a tidbit to share, he might be likely to cut the person off with a characteristic "Look, sonny, I know, I know. But it wasn't his secretary, it was his nurse. How do I know? I just know…trust me, pappy."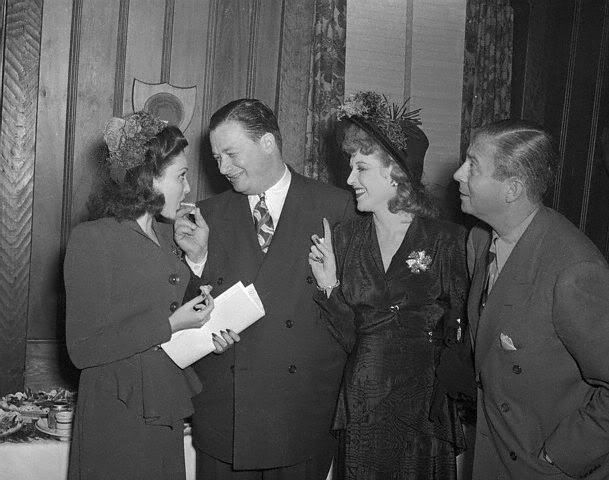 On the town in 1941 at Toots Shor's Restaurant in New York. Left to right are Linda Darnell, Shor, Mrs. Hellinger, Gladys Glad and Mark Hellinger.
Hellinger
was not above using his own column for occasional promotions of his own films and those of others with whom he wished to curry favor. Thumbing his nose at his home studio in his column was also, to
Hellinger
's way of thinking, a good way to keep reminding his bosses of his independence, even while in their employ. He even took out ads in trade papers hailing his own movies, while neglecting to mention the names of Wallis or even the Brothers Warner. A mention of a good film from another studio might cause his boss,
Hal Wallis
to blanch over his Sunday coffee, but to
Hellinger
, it might come in handy someday. As a
Hearst
employee while also an employee of the studio,
Hellinger
often received buildups in other
Hearst
employees' columns, such as
Louella Parsons
. Even his hypothetical rivals, such as
Ed Sullivan
and his old pal
Walter Winchell
would see that his name was placed in their columns several times and he always received favorable mention from them.
To be fair, the attention that
Hal Wallis
may have received for his work at the studio was hardly just the product of publicity.
Wallis
had a meticulous eye for rapid-fire storytelling on film. The vitality and profitability as well as the enduring legacy of Warner's products during
Wallis
' reign as Executive Producer from 1933-1942 was truly remarkable--and
Hellinger
still had much to learn in the eyes of his superiors at the studio.
Hellinger
was still—in his own eyes—a "mere" Associate Producer at Warner Brothers, chafing under the assignments of
Hal Wallis
and
Jack Warner
.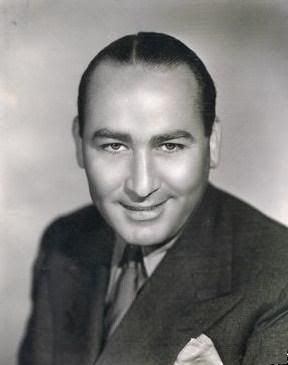 Hal Wallis at Warner Brothers
Reading some of
Hellinger
's innumerable memos to his studio bosses, one wonders at his instinctive storytelling skill and his remarkable naiveté. Sometimes it seems as though he is vexed to find that he is assigned to a relatively uninteresting movie such as a
Dennis Morgan
vehicle, (
Affectionately Yours
-1941). More often, he seems to be hurt that his supervisors have failed to express uncritical love for Mark and his every action. Some might say that it was the strained relationship with his own father being repeated again, others thought Mark overly sensitive to the hard knocks that come with the power, prestige and money of the producing job in the studio system.
One of the first opportunities to explore his new found clout at Warner's in the early '40s was the development of
A.I. Bezzerides
' novel,
The Long Haul
for the screen. A story of wildcat truckers trying to eke out a living in a cutthroat economic environment,
Hellinger
's success now enabled him to help attract director
Raoul Walsh
to the project and to cast the film thoughtfully.
George Raft
and
Humphrey Bogart
played credible brothers struggling to pay off what is owed on their truck, working long hours and surviving from job to job.
Ann Sheridan
brought a hearty sass to her role as a waitress in a diner who catches the attention of
Raft
in her first scene, which you can see
in this scene
. In
They Drive By Night
(1940) also featured another actress, the tiny powerhouse
Ida Lupino
, who was the offspring of generations of show biz veterans renowned in Britain.
Lupino
had a delicate appearance that belied the tough streak that had only been sharpened since arriving in Hollywood as a rather worldly-wise teenager in 1933.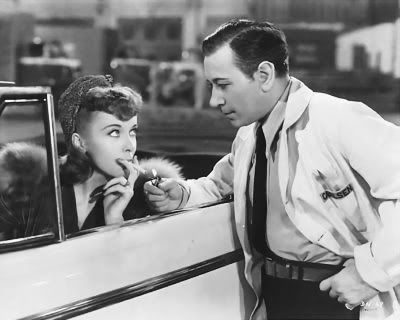 Ida Lupino trying to strike a spark with George Raft in They Drive By Night (1940)
During her stint at macho Warner Brothers she'd been lent to Paramount at the behest of
William Wellman
, where she forcefully played an artist's model and harridan who had the bad taste to turn on
Ronald Colman
in
The Light That Failed
(1939). Her fiery acting turn won raves and piqued
Hellinger
's interest in using her in the part of the character of the murderous wife of
Alan Hale
, a buffoonish owner of a trucking company.
Lupino
's descent into madness in the film was beautifully painted in broad strokes by the actress and director
Walsh
's dramatic collaboration.
The role helped to make the young
Lupino
an important actress at her home studio for the first time when she won critical and audience raves.
Hellinger
had initially rejected the script's subject matter as too boring for the average moviegoer, but his casting and ,
Raoul Walsh
's vigorous direction again helped to make this working class melodrama popular with audiences and critics.
Walsh
, who became a long term director at Warner Brothers beginning with this film, brought the same energetic realism that had distinguished one of the first films to explore "the lower depths" of society in the silent,
Regeneration
(1915).
Humphrey Bogart, whose character of Raft's luckless brother who loses his arm in a trucking accident enabled him to display his strengths as an actor. In the above scene, after sarcastically commenting that "maybe I can learn to knit and Mr. Ripley will print my picture," he explodes with grief and rage, asking his brother the painful question, "Why did you ever cut me out of that wreck?"
The film was also distinguished for the casting of
Humphrey Bogart
as a sympathetically weak character part opposite the ostensible star of the piece,
George Raft
. Bogart, who had long been a drinking companion of
Hellinger
's from their days in the '20s spent carousing at a speakeasy called
The Silver Slipper
in New York, shared memories of their colorful past and a sardonic view of life. When Mark had first met
Bogart
, he'd been playing the well bred youths close to his own background on stage. As he'd aged, and when he joined Warner's as a contract player, his life and his career had taken a much more circuitous route for the second tier actor, who'd spent much of his film time being justly rubbed out by bigger stars such as
James Cagney
.
Hellinger
and
Bogart
came together again a year later with Walsh again to make a film that was based on
W.R. Burnett
's grittily romantic gangster tale. Not seeing the possibilities in the lovingly adapted script by
John Huston
and probably weary of playing criminals,
High Sierra
was turned down by
Paul Muni, James Cagney, Edward G. Robinson, George Raft
and
John Garfield
. Bogart, who had sent numerous memos and telegrams to his bosses urging them to let him take on the role, envisioned this part as a requiem for a kind of noble gangster, as well as a possible resurrection for his career.
In
High Sierra
(1941)Bogart underplayed a character who was equally capable of violence and generosity, as well as altruistic grand gestures such as paying for a teenage character's (
Joan Leslie
) surgery to enable her to walk properly. He was also easily enraged, deeply loyal, feeling his age, chronically misunderstood, always in love with someone who didn't love him, and completely out of step with the age. A "beautiful" loser, surely, who was self-aware enough to wonder aloud how crazy he could be to try to go on the lam with a girl (
Ida Lupino
) and a mutt. It was a splendidly terse performance by
Bogart
, whose exhaustion and fatalism were only relieved in death. High Sierra also marked some of the edgier depictions of violence that stretched the bounds of the Production Code and, in
Hellinger
's words, "we managed to have a girl living with two guys in the woods" despite the Code's restrictions.
Audiences responded well, and
Bogart
's stock went up with his employers. The actor's renewed self-confidence finally allowed him to express himself in several iconic parts that became available to him at his home studio thanks in part to this film.
High Sierra
would be the last significant film that the two would work on together, though an amusing wartime anthology entertainment,
Thank Your Lucky Stars
(1943) and the melodrama,
The Two Mrs. Carrolls
(1947) were yet to come. Their friendship deepened over the next few years, and there were concrete plans to form their own independent production company together by 1947.
Hellinger
, ever the realist, had to point out to his friend and star, that
Bogart
's outspoken support of the unfriendly witnesses before HUAC was jeopardizing their financing of this venture. According to some sources, this threat to the production deal may have been one of the factors leading to
Humphrey Bogart
's distancing himself from the Hollywood group defending those whose livelihoods and freedom were about to be cut off by the repression emerging in postwar America.
In a series of rather childish memos to
Wallis
and
Jack Warner
, Hellinger began to cajole and brusquely demand recognition from the studio for his contributions and for several slights, real and imagined. Though he had almost always found a way around his editors and publishers in the past, at Warners, he understood that his own outspokenness might hamper his progress. Privately, he'd made up his mind to move on from Warner Brothers—once he saw a better opportunity. This restlessness and his fatalism grew more acute as time went on, especially after the death of Hellinger's only brother Morrie at only 25. Eventually it led him to leave Warner's for a dissatisfying stint at 20th Century Fox, during which he produced
Moon Tide
with French star
Jean Gabin
and inundated
Darryl F. Zanuck
with numerous memos as well. Later, he returned to Warner's for a time, until he found a happier berth at Universal-International, where he felt truly appreciated.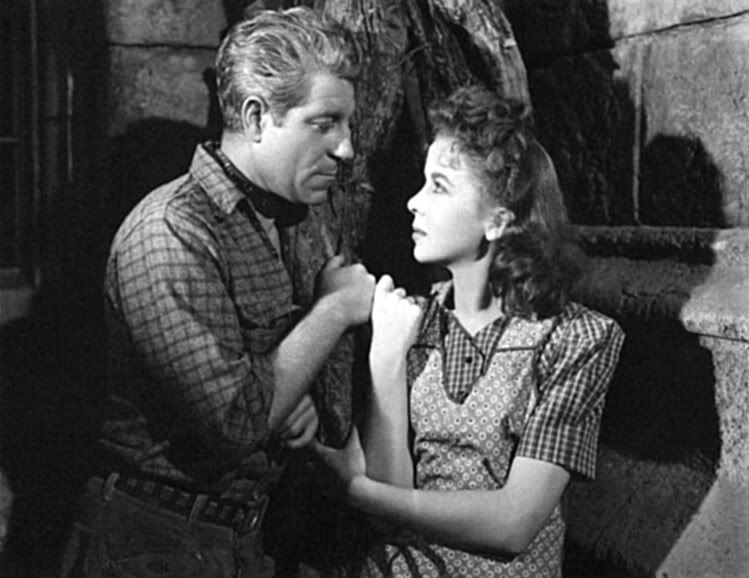 Jean Gabin and Ida Lupino in Moon Tide (1942)
He also couldn't stand to be alone, and especially dreaded nightfall, when he found it difficult to sleep. He often avoided going home to his strained marriage, which, despite the adoption of two children (Mark Jr. and Glad, Jr.), in the early '40s, was affected by his infidelity, hard-driving work ethic and the mutual love affair of both partners with alcohol. He loved
Gladys Glad Hellinger
and would remain with her until his death, but a conventional home life was not in the cards. Associates never questioned the telephone that was placed in the bottom left drawer of the producer's desk. When it rang unanswered during meetings, only a few believed privately that the phone number was known only by one other person, and
Ann Sheridan
, who had appeared in several of
Hellinger
's movies, was never indiscreet about the possible liaison.
Ann Sheridan at the height of her glamorous beauty--which was always mixed with a salt of the earth warmth and undeniable intelligence. A friend and probably more to Hellinger, she was grief-stricken by his death.
Hellinger
's view of his own life grew even more fatalistic after America entered the war. During the war, when he tried and was rejected for enlistment in military service it was learned that Buerger's disease, (an inflammation of the arteries and blood vessels of the hands and feet due almost entirely to smoking), incipient diabetes, and hypertension had all begun to take a toll on
Hellinger
.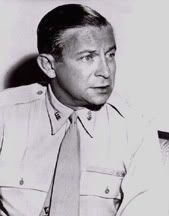 Mark Hellinger, a war correspondent in tailor-made khakis.
His manic work schedule and consumption of at least a pint of brandy daily were also noted by his physicians. His doctors nixed his enlistment, claiming that he "couldn't stand the shots" that the average G.I. received, much less basic training. Naturally, this did not stop
Hellinger
. He ceased to drink (for a time), and found a way to convince King Features (owned by Hearst at the time), to take him on as a war correspondent for a four month stint in 1943-1944. Mrs. Hellinger had his correspondent's uniform custom made and Mr. Hellinger made certain that he had a trunkful of fine aged alcohol with him at all times to share with enlisted men and generals alike.
His correspondence consisted largely of sentimental pieces reporting on the thoughts and feelings of service personnel in the Pacific, including Tarawa, which the columnist witnessed first-hand. The effect of this experience on his career was minimal, though it may have reinforced his tendency toward fatalism and his tolerance for the injustices that were a part of everyday life. But those life choices were still in the future.
In addition to his developing instinct for casting movies well,
Hellinger
knew that while he was an effective columnist, he was not a great or even particularly good writer. Yet he was an appreciative reader and he actually liked writers as companions. Unlike the average Hollywood producer, he appreciated and respected their work. He adopted the Hollywood habit of utilizing the work of several writers to create something that was truly cinematic.
Hellinger
also didn't allow his writers on the set, as recalled by screenwriter and later director,
Richard Brooks
, who began working with
Hellinger
at the end of World War II. Yet, unlike other producers,
Mark Hellinger
socialized with his writers and, according to
Brooks
, made an unusual deal with his writers, seeing to it that they received a percentage of the gross profits of all of their work for him. In an interview in the late 1980s,
Brooks
reported that every few months he was still received a small check in the mail for his percentage of the
Hellinger
projects he worked on in the '40s—an arrangement that
Hellinger
's widow honored even after her eventual remarriage.
While his scriptwriters were appreciated and encouraged,
Hellinger
took a small boy's delight in actually becoming friends with a few distinguished writers. The producer-writer once took a friend into his library at home and removed a copy of
Aldous Huxley
's short story collection,
"Brief Candles"
from the shelf. With wonder he opened the book to the title page, and explained to his friend that he had
Huxley
assigned to him as a scenarist. "We have meetings and everything", he explained, clearly starstruck by this literary giant, (though as was often the case in Hollywood, a marvelous writers' work may not have wound up in any films. While it's a bit hard to imagine
Huxley
and
Hellinger
having a meeting of the minds, it's possible that
Huxley
may have been asked to contribute to the script of
Between Two Worlds
(1944), the remake of
Sutton Vane
's metaphysical play from the '20s,
Outward Bound
, which had first been filmed in 1930).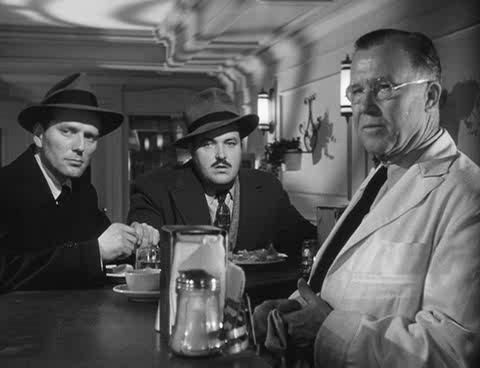 Charles McGraw and William Conrad taking over the diner from "bright boy" in the first moments of The Killers (1946) lit and photographed by Elwood "Woody" Bredell under Robert Siodmak's direction.
Another writer who enjoyed
Mark Hellinger
's company was
Ernest Hemingway
, whose tersely elegant prose style
Hellinger
envied and tried to copy, (along with half the writers of the 20th century). Approaching
Hemingway
's NY attorney in the about the short story
"The Killers"
,
Hellinger
purchased the rights to it and, with the help of
John Huston
,
Richard Brooks
and
Anthony Veiller
, expanded the short story into a feature film, though the first 15 minutes are pure
Hemingway
.
Ernest Hemingway
was said to be pleased by the film when he saw it, though there are reports that he didn't care for what he regarded as "the tacked on" part of the movie. Still,
Hemingway
eventually entertained
Hellinger
at his farm in Cuba and in Idaho just days before the producer's death. The writer had made an agreement to sell Mark several of his other stories as well, among them
The Snows of Kilamanjaro
. When they were returning by plane from one of these earlier encounters with
Hemingway
, a friend asked Mark, "What do you really think of Ernest?"
Hellinger
smiled wistfully, "That's me, if I could write."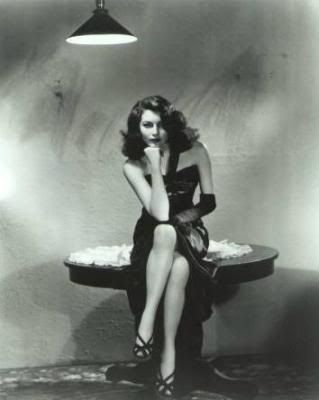 Ava Gardner in The Killers (1946)
By the time that Hellinger had secured the rights to
The Killers
(1946) he'd moved on from Warner Brothers to an enviable position at Universal International, where the producer had the autonomy and the appreciation he needed to feel welcome. In translating the story to movies, his now well-developed eye for talent led him to choose the masterful German émigré director
Robert Siodmak
to helm the movie.
Siodmak
's visually striking films, such as
The Suspect
and
The Spiral Staircase
were also fascinating noirish studies of human nature. He was assisted on
The Killers
by cinematographer
Woody Bredell
, who had given
Siodmak
's earlier
Phantom Lady
and
Christmas Holiday
their hauntingly beautiful yet menacing black and white resonance.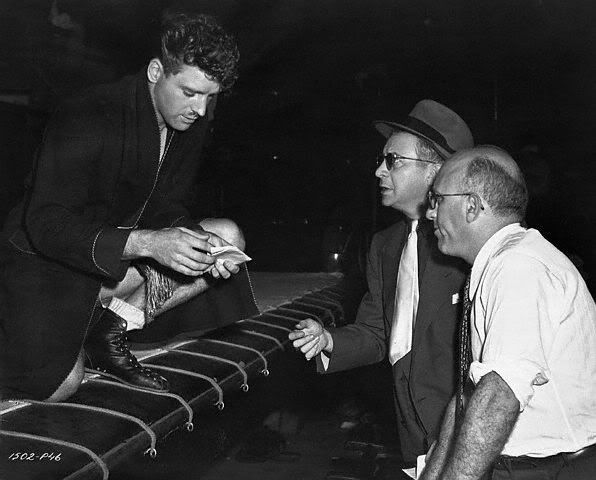 Mark Hellinger (in sunglasses) discussing a fight scene in The Killers (1946) with Burt Lancaster and director Robert Siodmak.
While
Hellinger
wisely trusted his director and technical staff to assist in achieving the desired effects on screen, he was as astute in casting the key roles. For the Swede, whose passive acceptance of fate frames the movie, he picked a relatively inexperienced acrobat turned actor from the tri-state area,
Burt Lancaster
, who was splendid and became a star with this film.
His choice for the part of the femme fatale, Kitty Collins, was the MGM starlet,
Ava Gardner
, whose insolent sexuality
Hellinger
noticed in a small movie called
Whistle Stop
(1946).
Gardner
, who had been ill-used previously, was given confidence and care that helped make her presence vibrant on screen for the first time.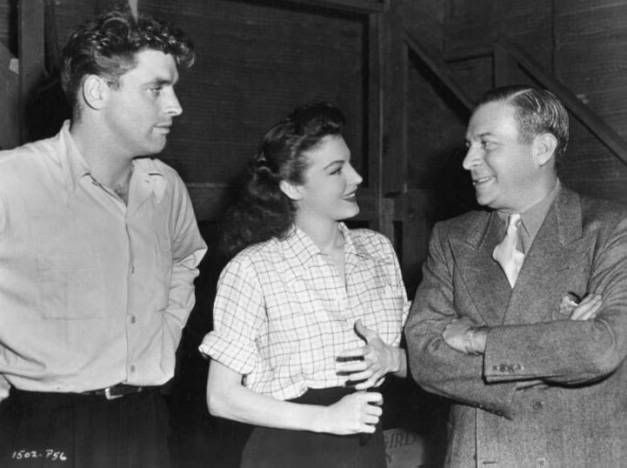 A happy producer with two new stars, thanks to his movie: Burt Lancaster, Ava Gardner and Mark Hellinger on the set of The Killers (1946).
Hellinger
was equally adept at choosing little utilized actors (up to then) in significant, smaller roles. For example,
Charles McGraw
and
William Conrad
brought a finely drawn realism to their parts as brutal gunmen tracking down Lancaster. The film, which was a smash with audiences and seems under-appreciated by critics, marked the beginning of
Hellinger
's best period.
Mark Hellinger
's quest for stories that reflected a grittier postwar reality reportedly led him to provide "seed" money to several would-be authors, as well as established talents. Less gifted writers also found
Hellinger
a soft touch. Journalist and Hellinger biographer and friend,
Jim Bishop
tells of a poor, unknown writer who begged the producer for a job once.
Hellinger
found a place for him on his payroll for some time, never expecting much in return. He was quite surprised when the writer submitted a long, original screenplay after many long months. The script, it turned out, was a anti-Semitic screed, for which
Hellinger
paid him, despite the repellent subject matter. When asked why, Mark explained, "Even s.o.b.s have to eat."
Another time a young man who had done some serious time behind bars sat in
Mark Hellinger
's outer office for days, requesting an audience with his literary hero. Once he met the producer, the parolee explained that he just had to have a job soon and because of his criminal background couldn't get a position as a reporter anywhere, despite the fact that he'd written for the prison paper for years. With his typical sympathy for the devil,
Hellinger
hired the guy, who eventually turned in an extremely violent, realistic story treatment called
Brute Force
, based, he said, on his own experiences behind bars.
Hellinger
recognized that this was a powerful kernel of a story, though the man who'd lived the story was not a trained or gifted writer.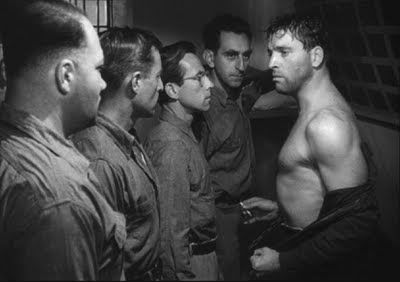 The cast of Brute Force (1947), (left to right): Jack Overman, John Hoyt, Whit Bissell, Jeff Corey and Burt Lancaster
Robert Patterson
, who is credited with the film's story line, has only a few paltry writing credits and they end around 1952.
Patterson
may have been the writer who allegedly disappeared from Hellinger's offices shortly after the story material for
Brute Force
(1947) was submitted for review. A bit more about Bob Patterson's rather checkered later career was reported in the Time magazine issue published on
Monday, Feb. 07, 1949, which can be seen here .
Eventually,
Hellinger
assigned the story to talented tough guy screenwriter
Richard Brooks
, who shaped it into a powerful, filmable script, full of despair and outrage over the petty tyrannies within the prison system, and society itself.
Brooks
wrote the script after a stint visiting San Quentin for three weeks research. Young
Jules Dassin
was chosen as director of the brutally realistic film with another splendid cast headed again by
Burt Lancaster
,
Howard Duff, Charles Bickford
and one of the most unforgettable villains of any prison movie, the fascist sadist,
Hume Cronyn
. Several experienced New York stage actors gave the movie an enormous power and sense of truth that still is effective today, (some of whom were associated with the left leaning Group Theater), among them
Jeff Corey
,
John Hoyt
,
Roman Bohnen
, and
Jay C. Flippen
.
Centered around the tensions and memories of convicts looking desperately for a way to escape their fate, the movie blends pathos, underlying rage and sense of futility. The flashback sequences showing the women they loved or simply desired and the circumstances that eventually led the men to prison, relieve the tension of the film somewhat. Though some critics felt that this device was overused, it helps to alleviate the moments of extreme violence that punctuate the movie, as they turn on one another and their oppressors.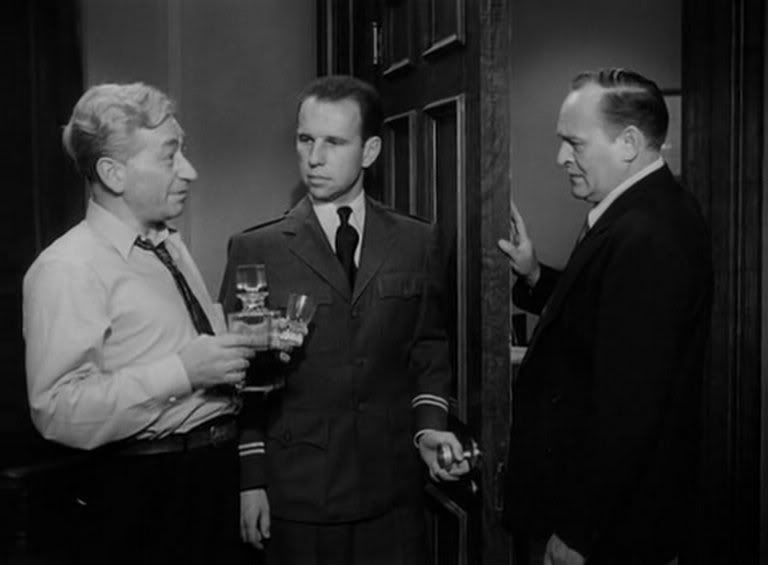 Art Smith, Hume Cronyn and Roman Bohnen as the ineffectual, the brutal and the incompetent faces of authority in Brute Force (1947).
The nihilism that underlies
Brute Force
is expressed in the heroic hopelessness of their attempt to break out of prison or die trying, and even few humane figures in the film are depicted as largely ineffectual, (such as
Art Smith
's philosophical alcoholic doctor), as the situation boils over in this film, decimating the hopes and lives of the weak but well-intentioned along with the totalitarian and the brutal.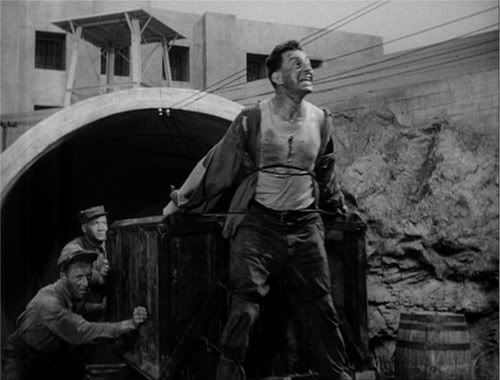 Jeff Corey in Brute Force (1947)
In later years,
Dassin
and others would come under fire from the McCarthyites for the social criticism of this film, but, as author
Eddie Muller
points out, the movie doesn't endorse any political solutions and "Brute Force is the blackest of film noirs. By the time it ends, any trace of political posturing has been burned beyond recognition by its searing nihilism."
At the same time as these films and others were being produced by
Hellinger
, he had in the back of his mind a story that he'd been longing to tell for some time. Based on the
Dorothy King murder case
in the 1920s during
Hellinger
's salad days in the big apple, the title,
The Naked City
, was taken from a 1945 book with that title published by the crime photographer
Weegee
, whose brutally realistic pictures of car wrecks, crime victims, overcrowding, and street people, caught the extremes of life in the metropolis of New York on film.
Hellinger
always knew that he wanted to make a movie about the city and in Manhattan. Following the documentary trend in American films, exemplified by the semi-documentary crime movies of American filmmaker
Louis De Rochemont
, such as
The House on 92nd Street
(1945), and
13 Rue Madeleine
(1947), and the neo-realism of Italian movies such as
Roberto Rossellini
's
Open Cit
y (1945) and
Paisan
(1946), Mark knew that he wanted to tell a story about New York life in a slightly different way. He also knew that he would continue to push the boundaries of the Production Code by pursuing a new level of realism. Tired of the Hollywood depictions of all cops as dim-witted, cigar chomping impediments to crime-solving--so common in the gentleman sleuth genre films of the '20s-'40s, Hellinger sent screenwriter
Malvin Wald
to research the activities of the homicide squad of the NY police. After some resistance and mistrust on the part of the detectives,
Wald
, who'd been trained as an Army documentarian, gathered enough material to make an original story springing from the King case circumstances, and redolent of New York atmosphere.
Wald
returned to LA and wrote his script with
Albert Maltz
, with strong guidance from the producer, encouraging them to bring New York City as it then was to the screen, full of "—hot summer pavements, the children at play, the buildings in their naked stone, the people." More importantly for
Hellinger
, it was a personal New York as he knew it and remembered it.
The movie also marked a personal triumph for others who worked on the project, notably, cinematographer
William Daniels
. Though
Hellinger
was initially skeptical of taking a chance on the "washed-up" cameraman, the rushes that he viewed while the movie was being made and the fact that few technical gaffes occurred despite the sometimes improvisational working conditions contributed to his growing respect for the cinematographer as a man as well as for his work.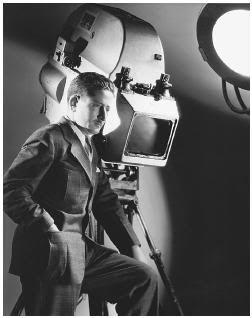 Cinematographer William Daniels
Noted for his highly glamorous and stylized film work with such silent movie giants as director
Erich Von Stroheim
, and closely identified as
Greta Garbo
's "personal" cameraman,
Daniels
was considered by many in Hollywood to be unemployable by this stage of his career due to his struggles with alcoholism. Since
Naked City
was filmed during the height of the 1947 summer in real offices, apartments and streets in approximately 107 locations throughout the boroughs,
Daniels
was challenged to find ways to capture the events in a realistic manner markedly dissimilar from his earlier movies. While Hellinger hired a team of jugglers to distract citizenry from gathering at locations while they filmed key outdoor scenes, Daniels often found himself cramped in the back of a van with his disguised camera, or helping to haul heavy equipment up several flights in buildings without elevators, and even perching atop New York bridges to film the dangerous climactic sequences.
Daniels'
eventual Academy Award for the film, given him at the 1949 Oscar ceremony following
Hellinger
's death, may have been justification for the producer's renewed faith in him.
Barry Fitzgerald in a reflective moment in The Naked City.
The black and white cinematography of
The Naked City
shows an approximation of everyday life before air conditioning made city living more bearable for the masses, but it also shows a world before when most people seemed less self-conscious in public. Much the black and white film seems to bear what one observer called "the stamp of real experience"--shades of light and dark, showing the struggles to get through the day, the loneliness of the city, the desperate flights from the oppressiveness of the crowd, and even occasional moments of peace much more eloquently than any of the words in the script could convey.
Mark Hellinger
could not resist the temptation to add the 'voice of God' narration to the movie, reading his melodramatic voice-over in his own slightly nasal, slightly sarcastic way to frame the story, speaking the lines "Every murder turns on a bright hot light, and a lot of people have to walk out of the shadows." Though
Hellinger
did not appear on camera, (as he had briefly in two other movies that he'd produced, when he popped up briefly as himself in
Thank Your Lucky Stars
and as an extra in
The Killers
), he was present for every setup and take throughout the grueling shoot, which became a labor of love for him, despite the discomforts associated with the filming.
It is the blueprint for the police procedurals that have followed it. Rather than depict the police as slow-witted foils as they'd been in hundreds of Hollywood movies,
Hellinger
and his crew sought to paint a portrait of a fallible group of cops whose dogged footwork and understanding of human behavior enabled them to crack a case. In casting Hollywood's idea of an Irishman,
Barry Fitzgerald
, to lead the police investigation of a young woman's death,
Hellinger
chose an actor who was probably too short to qualify as a NYC policeman, but was old enough to personify a mentor for the apprentice level detective played by the callow
Don Taylor
. The physical and age differences between the two men and the deferential way that Taylor behaved toward his senior officer, chafing slightly under his sometimes roundabout logic and air of some superiority gives the film the strongest human relationship. Fitzgerald's unlikely appearance also helped to mask the character's skilled and logical reasoning and ability to ferret out the truth from an unwilling witness or suspect while appearing to be a harmless old fuddy-duddy. If
Fitzgerald
's Det. Lt. Dan Muldoon can be seen as having a literary and spiritual antecedent as an interrogator and student of human foibles, it would probably be
G.K. Chesterton
's
Father Brown
, who was always as interested in the why as the how of every crime and more interested in the character of the criminals he investigated. Mercifully, Fitzgerald put all his latent tendencies toward whimsy on hold for the duration of the film, concentrating on his ability to actively listen to other characters.
The movie
The Naked City
spawned a television show of the same name in the early '60s and even the venerable
Dragnet
owes much in tone to the film. An echo of this film's grittiness and specificity of place and people can still be seen in the
Law and Order
series set in New York City.
The film, again directed by the talented
Jules Dassin
, is a valentine to
Hellinger
's slightly tawdry sweetheart, composed of wonderful location shots of the upper and lower East Side, the Williamsburg Bridge, the East River and the offices and apartments where millions lived. Seen today it seems almost quaint at times. Back in 1947, it was still groundbreaking, freshly realistic and enlivened by myriad small character parts, including film debuts for such character actors as
James Gregory
and
John Randolph
, with
Ted de Corsia
in only his second film. Second leads
Howard Duff
and
Don Taylor
, while competent and likable actors, seem dull by comparison. It doesn't seem quite real in a modern sense, but the snapshot that the film provides of people living at a moment in time: shopping, cooling off as best they can, struggling to pay their bills, be good parents and just surviving is still compelling. To
Hellinger
it would also be his valediction.
Living in New York during the brutal heat of summer, going out every night to socialize with his old pals and working on the film with his writers and crew at all hours, Hellinger would shrug when friends said that he didn't look well. One grueling day that summer, Mark met an old friend at Twenty One for one of their rare meeting,. In the midst of lunch, he turned to his friend and asked, "How old is old?" When his pal demurred that it depended on the person, Hellinger murmured, "Christ, I must be a hundred and four. No, no, I'm old."
Leaving the restaurant, they went to a barber to get a shave and a manicure, just like in the old
News
days, picking up gossip. When
Hellinger
got up slowly from the barber chair, he stood in front of the shop mirror, eyeing himself critically while straightening his white tie against his navy shirt under the ruthless glare of the fluorescent lights. "This", he reportedly said, "is the face of death."
Ted de Corsia trying to escape his fate in The Naked City (1947).
A week later, he suffered a serious heart attack in his New York hotel. His wife
Glad
leaked to the press that it was ptomaine poisoning, scoffing at reports that respirators and medical personnel had been seen coming and going from the Sherry Netherland at all hours. Though she tried to get him to slow down, he continued working the phone from an oxygen tent. After returning to Hollywood in the Fall, he drove himself to finish post-production on the film.
He couldn't slow down, especially if it meant interfering with the habits of a lifetime and the realization fo so many dreams. There was too much to do and to live for.
Humphrey Bogart
had signed with
Hellinger
to make two movies a year with him.
Burt Lancaster
had promised to make one a year with him. Cinematographer
William Daniels
was now an intricate part of the production company. About four years worth of film stories, among them
Act of Violence
, which would eventually be made by
Fred Zinnemann
, were ready to be scheduled and
David O. Selznick
, of United Artists, would be helping bankroll his projects and releasing them through UA under
Mark Hellinger Productions
. Besides, in November he was due to visit with
Hemingway
in Idaho, where
Hellinger
, away from the wife and his doctors, spent much of his time gambling the night away in a crooked casino in Ketchum while drinking brandy, in part, he said to help him shake a persistent cough that he'd developed along with a nagging cold. When his new pal
Papa Hemingway
urged him to get some rest,
Hellinger
was touched but oblivious to his friend's genuine concern. Besides, by his next birthday, in March of 1948, he was due to finally inherit about a quarter of a million dollars left him in trust by his wary attorney-father, who felt that his wild-living son might have gained enough sobriety by 45 to spend it wisely.
Hellinger
could now afford to bankroll his productions himself.
Unfortunately,
Mark Hellinger
never reached that birthday. His early end came days before Christmas, after watching a William Powell movie, The Senator Was Indiscreet in his private projection room at home. When he was declared dead it was the very day when he was scheduled to officially open his own wholly independent production company,
Mark Hellinger Productions
.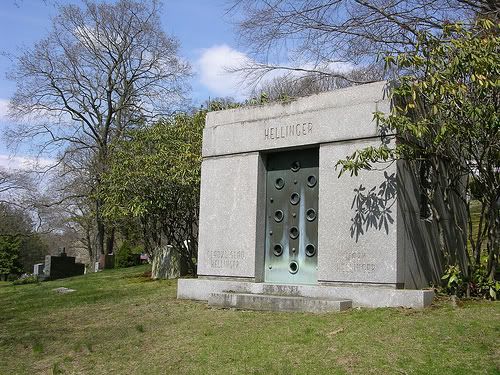 Mark Hellinger's crypt, within sight of the Hudson in Sleepy Hollow Cemetery in Westchester.
There are gifted people whose careers as writers, directors and actors were made possible in some measure by
Mark Hellinger
. He nurtured creative talents in a diverse number of people, many of whom did their best work under his aegis. Many of them had succeeded before meeting him, and would do good work after his demise, but working with him must have been a singular experience.
When asked once about what his legacy might be someday, and how he'd like people to remember him,
Mark Hellinger
thought awhile and reportedly said, quietly, "He could tell a story."
Hellinger
was buried within sight of his beloved Hudson River, near New York City in Westchester, as he requested prior to his death. This has been the story of one man in eight million. He wanted to be a storyteller on a grand scale.
Sources for this four part series:

Behlmer, Rudy, editor, Inside Warner Bros. (1935-1951), Viking Penguin, 1985.
Bishop, Jim, The Mark Hellinger Story: A Biography of Broadway, Appleton-Century-Crofts, Inc., 1952.
Brooks, Louise, Lulu in Hollywood, University of Minnesota Press, 2000.
Brooks, Richard, The Producer, Simon & Schuster, 1951.
Donati, William, Ida Lupino, A Biography, The University Press of Kentucky. 1996.
Hellinger, Mark, Moon Over Broadway, New York: William Faro, 1931
McGilligan, Pat, editor, Backstory 2, University of California Press, 1991.
Muller, Eddie, Dark City, St. Martin's Griffin, 2007.
Server, Lee, Ava Gardner: Love is Nothing, St. Martin's Griffin, 2007.
Sperber, A.M. and Lax, Eric, Bogart, Alfred A. Knopf, Inc. 1997.
The Jim Bishop Archives, Mark Hellinger Collection , St. Bonaventure's University Website
(Originally published by me in four parts at MovieMorlocks.com, between Dec. 12, 2007 & Jan. 2, 2008. Reprinted here with the kind permission of Turner Classic Movies.)